Fears public health may be hit in shake-up of NHS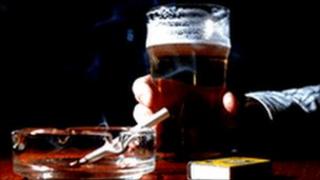 The overhaul of the NHS may harm the public health drive, experts fear.
Under government plans, primary care trusts in England will be abolished and GPs given control of the budget.
The shake-up will also mean public health is handed to councils, but the King's Fund health think tank said this could lead the NHS to turn its back on issues like smoking and drinking.
The government said it would be setting out detailed plans for public health in England later this year.
Public health has traditionally been the responsibility of local health managers working for the 151 PCTs.
They have been in charge of recruiting local public health directors and coordinating campaigns to encourage people to adopt healthier lifestyles.
But under the changes announced earlier this month, that role is to be handed to local authorities.
'GP risk'
And the King's Fund believes it could mean the GP consortiums that will be in charge of local NHS services will not be engaged in the issue in the same way the health service was in the past.
Dr Anna Dixon, director of policy at the health think tank, said the move could lead to doctors and other staff concentrating on just "treating ill-health rather than preventing it" too.
"I think there are risks. I think there is a particular danger that the NHS no longer sees health at its responsibility but just health care," she said.
Dr Dixon also said the fact that the consortium boundaries will differ from local authority ones - PCT areas largely mirror council ones - could hamper partnership working.
Public health consultants have already started lobbying the government about the issue and have asked for a key role on the independent board which will monitor GP consortiums.
Professor Steve Field, of the Royal College of GPs, said he would support such a move.
"There is a risk here, especially as not every GP has a great knowledge of public health," he said.
But public health minister Anne Milton said there was no need to be concerned, saying detailed plans about how public health would work under the new system would be set out later this year in a White Paper.
She added: "It is not a second thought or forgotten by any stretch of the imagination."
She also pointed out the government was going to ring-fence the public health budget to protect it during the tough times ahead.