Personal responsibility health agenda 'welcomed'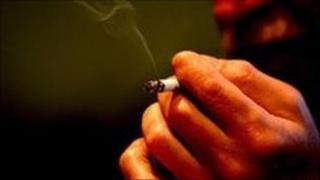 The stress on personal responsibility for health is being welcomed by experts - but they warn people still need some help in improving their lifestyles.
Ministers have been vocal about the need for people to take charge of changing their own behaviour instead of relying on state intervention.
Experts have backed this stance, saying attempts by the previous government were "too bureaucratic".
But they said help was still needed over work, housing and education.
Unlike the NHS, the coalition government has yet to set out in detail what it wants to do on issues such as obesity, smoking, drinking and drug abuse.
'Lecturing'
However, ministers have attracted attention for some outspoken comments.
Health Secretary Andrew Lansley has criticised the "lecturing" nature of some of the interventions that accompanied Jamie Oliver's TV shows on school dinners.
And this week public health minister Anne Milton said doctors should use the term fat rather than obese.
While these statements have attracted criticism from some quarters, many experts have welcomed the underlying theme - personal responsibility.
In both instances, the ministers were quick to point out they wanted to see the onus return to individuals for their own health.
Angela Mawle, chief executive of the UK Public Health Association, said it was going to be "challenging" to shift the focus in this way.
But she added: "It is what we need as it could help change behaviour. Labour placed public health in the NHS and the whole thing became too bureaucratic. We need more focus on issues such as housing, work and education."
James Gubb, of the think-tank Civitas agreed. "Many of the interventions smacked of the nanny state and they didn't work. If anything health inequalities are getting worse.
"But to make this work we need the coalition government to support local projects and foster community spirit. For me, the most important step is to help schemes that get people back into work."
Professor Alan Maryon-Davis, president of the Faculty of Public Health, said: "Personal responsibility is crucial - but people can be helped to choose the healthier option - especially when it comes to food.
"Clearer labelling, competitive pricing, responsible marketing are all ways the food industry can really help. But it needs constant pressure to do so - especially from the new government."