Doubts raised over child food allergy rise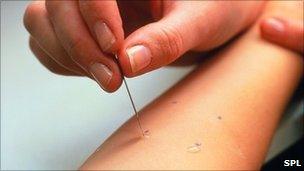 Doubts are being cast over the sharp rise in food allergies among children, with a health watchdog saying many could have been wrongly diagnosed.
Up to 8% of children under three now have food allergies - a dramatic rise since 1990.
But NICE raised concern about the reliance on self-diagnosis, such as the use of testing kits bought online.
The health watchdog cited research showing that a fifth of self-diagnosed cases were inaccurate.
But it also called on GPs to improve their practices in some draft guidelines.
It comes as allergies are increasingly being seen as a major child health problem in western countries.
Hospital admissions for food allergies among children have risen by 500% in the last 20 years in England, Wales and Northern Ireland, says the National Institute for Health and Clinical Excellence (NICE).
In its draft guidance NICE aims to help GPs diagnose and assess food allergies in children.
The guidance tells GPs when to consider the possibility of a food allergy and when to carry out further testing.
For example, if a child suffers from skin conditions like eczema or itchy rashes, sneezing or shortness of breath or gastro-intestinal problems such as vomiting, difficulty swallowing or constipation.
Further testing should also be carried out if a child suffers from anaphylaxis, a severe hyper-sensitive reaction, the guidance says.
Methods of diagnosis include removing the suspect food from the diet for a period of time and then reintroducing it.
Skin prick tests and blood tests can also be used to detect antibodies.
The NICE guidelines make it clear that alternative methods of diagnosis, such as hair analysis, are not recommended.
They also say that commercial allergy tests sold over the internet are unscientific and should be avoided.
Dr Judith Richardson, of NICE, said: "Food allergies in children are becoming more common, therefore it is important that there are appropriate, evidence-based approaches in treating those with this condition.
"Many of the symptoms are common to other conditions, so it's not always easy to identify and diagnose food allergy correctly," she said.
The most common foods which children and young people are allergic to include cow's milk, fish and shellfish, hen's eggs, peanuts, tree nuts and sesame, soy, wheat and kiwi fruit.
Lindsey McManus, from Allergy UK, said GPs needed more training on how to test for and recognise allergies.
"The word 'allergy' can be misused. Any adverse reaction tends to get diagnosed as an allergy," she said.
And she has a theory about why there has been such a sharp increase in food allergies in children in the last 20 years.
"Parents often look for alternative ways to diagnose their children, using tests which aren't scientific at all. Parents tend to think it's an allergy without taking proper medical advice," Ms McManus said.
But Dr Adrian Morris, from the Surrey Allergy Clinic, believes food allergies could be more prevalent than figures indicate.
"These food allergies may have always been there in children, but doctors are just becoming more aware of what they are and how to spot them," he said.
Dr Morris said that many doctors defer testing for food allergies until a child is three years old, so these allergy figures might just be "the tip of the iceberg".
Related Internet Links
The BBC is not responsible for the content of external sites.