Cancer care 'at risk' as NHS faces spending squeeze
By Nick Triggle
Health reporter, BBC News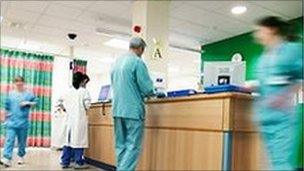 Cancer care and infection control are at risk as the NHS prepares to make savings, a health regulator says.
The review of 129 foundation trusts - the top performing NHS organisations - highlighted both as the sector gears up for its toughest round of savings yet.
The leading hospitals and mental health services in England are planning to make cuts of 4.4% - nearly 50% more than they have ever achieved before.
Monitor, which regulates the trusts, said the task would be "challenging".
While the NHS budget is being protected, the health service has been told to save up to £20bn by 2014 to help it cope with increasing pressures from the ageing population, rising price of drugs and lifestyle changes.
A raft of job cuts has already been announced.
But the analysis by Monitor, which covers about half of all hospital and mental health services, gives the clearest indication yet of how patient care may be affected.
A total of 34 trusts predicted performance could suffer in the coming year with 23 of them identifying cancer targets as at risk.
In particular, the trusts said aim of ensuring treatment starts within 62 days of referral was most at risk.
Cancer targets have been a controversial area in recent weeks with Labour claiming the coalition government wanted to scrap them - something which has subsequently been denied by ministers.
Other than cancer, nine trusts identified MRSA and six Clostridium difficile as areas of concern.
Monitor also highlighted the fact that income over the next three years was expected to fall - the first time this has happened.
The regulator said this was expected as it reflected the current economic climate.
But it warned it expected to see "an increased in regulatory action", adding the task facing foundation trusts was "challenging, but achievable".
Dr Mark Porter, of the British Medical Association, said: "Doctors will continue to do their best for patients, but it will not always be possible for the NHS to achieve more with less and the government will ultimately have to take the responsibility for this."
But the Department of Health sought to allay fears the quality of care would suffer.
A spokeswoman said the government was "committed" to improving cancer care and would be publishing plans soon to improve services.
And on infection control, she added: "We expect all providers of services to NHS patients to continue to reduce rates of hospital acquired infections."
Related Internet Links
The BBC is not responsible for the content of external sites.