Q&A: Hospital PFIs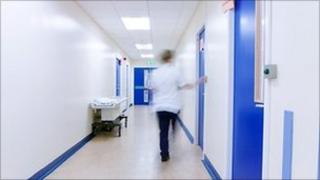 New figures show the NHS is facing a £65bn bill for its new stock of hospitals built under PFI.
Q: What is PFI?
PFI stands for private finance initiative. It is basically a way for the public sector to avoid paying up-front costs for new buildings or major redevelopments.
Under the initiative, private firms fund the projects, leaving the NHS to make repayments over 30 or 40 years. In many ways, it is the equivalent of a mortgage.
Q: It sounds like a lot of money?
It is. To put the £65bn figure into context, it is more than half the entire NHS budget England this year.
However, the repayments are spread over a long period of time - in fact the final payment is not due to be made until 2048.
What is more, in some of the cases the fees take into account maintenance and even cleaning costs.
Q: What is the problem?
Experts say the repayments may start to cause NHS trusts problems. The deals were done when there was plenty of money in the system.
But now spending is being squeezed, the health service, like the rest of public sector, is looking for ways to save money.
The problem with these contracts is that they are not that flexible and the amount that is being paid out each year is on the rise. Some trusts are spending well over a tenth of their turnover on repaying these debts and that means there is less money for patient care and less money from which to make savings from.
Q: What can be done about the costs?
Most of the contracts will have some wriggle room on services such as cleaning. Trusts should be able to renegotiate these aspects. But some experts are urging trusts to go further.
Much as individuals renegotiate their own mortgages every few years, the NHS could talk to their lenders about repayments, perhaps spreading them over a longer period of time to ease the pressure in the next few years.
Q: Are these new hospitals really needed?
Most people would agree that the stock of hospitals needed updating. Buildings were old and often unsuitable for modern health care needs.
Under Labour, 103 PFI deals were signed off, leading to the biggest wave of hospital building since the network of district general hospitals was created in the 1960s.
However, one of the stated aims of this government and, indeed, the last is to move care out of hospitals and into the community. Suffice to say, if that is to happen the demand for hospital space falls.