'Give out statins with junk food'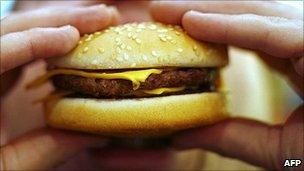 Fast food outlets should consider handing out cholesterol-lowering drugs to combat the effects of fatty food, say UK researchers.
Taking a statin pill every day would offset the harm caused by a daily cheeseburger and milkshake, the Imperial College London team said.
It would only cost 5p a customer - similar to a sachet of ketchup.
But the British Heart Foundation warned an unhealthy diet does more harm than just raising cholesterol.
Writing in the American Journal of Cardiology, Dr Darrel Francis and colleagues said it was about reducing harm in the same way that people who smoke are encouraged to use filters and those who drive are told to wear seatbelts.
They took data from trials of almost 43,000 people to calculate whether the statins could override the effects of eating a junk food diet.
A statin a day can neutralise the risk of cardiovascular disease linked to a daily intake of a 7-oz cheeseburger and a small milkshake, they calculated.
The researchers said there could be no substitute for leading a healthy lifestyle, including eating a good diet, but that a complimentary statin would be at least one positive choice among a sea of negative ones.
For those only eating junk food once a year, an annual one-off statin dose would have little effect, but for those who partake more regularly it would have a greater opportunity to neutralise that risk, they added.
Statins are already taken by millions of Britons to reduce the risk of suffering a heart attack or stroke by lowering levels of bad cholesterol in the blood.
They are thought to be fairly safe, although some experts have raised concerns about side-effects.
One low-dose statin - simvastatin - is available in a low dose to buy from the pharmacist.
"Importantly, even partial adherence to statin therapy conveys a mortality benefit, suggesting that statins do not need to be taken daily to have some protective effect," said Dr Francis.
But he pointed out that statins would not affect all the negative effects of an unhealthy diet.
"It's ironic that people are free to take as many unhealthy condiments in fast food outlets as they like, but statins, which are beneficial to heart health, have to be prescribed," he said.
"It makes sense to make risk-reducing supplements available just as easily as the unhealthy condiments that are provided free of charge."
But Professor Peter Weissberg, medical director at the British Heart Foundation, said the suggestion should not be taken literally.
"A junk food diet has a wealth of unhealthy consequences beyond raising cholesterol.
"It can cause high blood pressure through too much salt, or obesity through eating meals loaded with calories.
He added: "Statins are a vital medicine for people with - or at high risk of developing heart disease.
"They are not a magic bullet."
Related Internet Links
The BBC is not responsible for the content of external sites.