Sunbed eye damage warning issued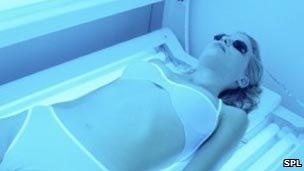 Sunbed users are risking their eyesight by failing to wear protective goggles, experts warn.
Some people refuse to use the goggles provided for fear of "panda eyes" but the College of Optometrists says safety should prevail.
Merely closing the eyes while on the sunbed does not offer full protection, experts advise.
UV damage caused by sunbed lamps can cause long-term damage and growths in the eyes, as well as skin cancer.
The college recommends people wear the goggles or "winkies" provided by tanning salons.
Its expert Dr Susan Blakeney said: "The skin on the eyelid is very thin and delicate so it's vital to protect this area from UV rays.
"Whilst we do not advocate the use of sunbeds, if you do use them it is important to ensure that you always use protective eye wear - as you would wear sunglasses when outside - to safeguard your eyes from UV rays.
"Avoiding wearing goggles or 'winkies' whilst using a sunbed can lead to benign eye growths called pterygium."
She said tanning beds use ultraviolet light that produce both UVA and UVB rays, which can be more powerful than sunlight because it is directed straight at the face.
"We only have one pair of eyes, so if you want to safeguard your sight, always ensure you wear the proper protection whether on the sunbed or in the sun," she said.
Kathy Banks of the Sunbed Association said users were provided with the goggles to wear and were instructed to do so for their own safety.
"And the majority of users do wear them, but you will get a few who will refuse, mainly because they don't want white patches around the eyes known as panda eyes."
She said salons could refuse people access if they did not adhere to recommendations.
Related Internet Links
The BBC is not responsible for the content of external sites.