Health visitors 'can stop post-natal depression'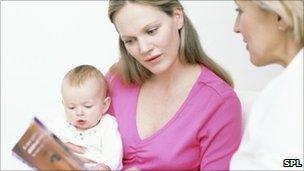 Women who are given psychological support by specially trained health visitors are less likely to develop post-natal depression, says a report.
The findings are in a study, from the universities of Leicester, Nottingham and Sheffield, of more than 2,000 women following childbirth.
Health visitors were trained in assessing mental health problems and giving psychological support.
The government says it is committed to increasing health visitor numbers.
The women in the study came from 101 primary care teams in the Trent area of England and were monitored for 18 months.
Nearly 1,500 of the women received the support from the newly trained health visitors and 767 women received normal care from a health visitor.
All showed no signs of depression six weeks after childbirth when the study began.
The study found that those women who were seen by a health visitor with additional mental health training were 30% less likely to develop depression six months after child birth compared with women receiving usual care.
Even women who had few or no complaints of depression at six weeks after child birth appeared to benefit later if their health visitor had the additional training, the research says.
Lead author Professor Terry Brugha, of the University of Leicester Clinical Division of Psychiatry, said: "Up until now, it was thought that depression could only be treated when it is picked up by a GP or health visitor.
"But this study shows that women are less likely to become depressed in the year after childbirth if they are attended by an NHS health visitor who has undergone additional training in specific mental health assessment and in psychological approaches based on either cognitive behavioural or listening techniques."
Women receiving normal care were significantly more likely to develop depression six months after childbirth.
Professor Brugha said: "This is all about the quality of relationship between the health visitor and the mother.
"There must be confidentiality and trust, and the health visitor must spend time with women they think have depressive symptoms."
When the research team tried to repeat their research in other parts of England, they said they were unable to because of a substantial reduction in the number of health visitors funded by the NHS in many areas.
Professor Brugha added: "Mothers were fortunate if they receive just one home visit from a health visitor."
The study found that many health visitors were unable to take time off to undergo the extra training.
A Department of Health spokesman said: "The government has committed to increasing the number of health visitors and to focusing Sure Start to ensure that all families get high quality services.
"We are working with the profession and NHS to improve health visiting services for all families, including additional care packages where needed."
Commenting on the research, Karen Reay, national officer for health at Unite, the union that represents the Community Practitioners' and Health Visitors' Association, said: "Families and children aren't getting the care they need from health visitors at the moment because of the reduction in their numbers.
"There are massive problems with post-natal depression out there. We are just scratching the surface," she said.
Depression is thought to affect about one in 10 women following childbirth.
Related Internet Links
The BBC is not responsible for the content of external sites.