Predictive blood test for TB 'a step closer'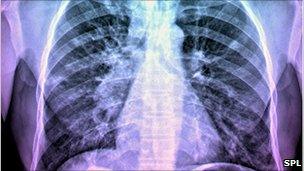 International researchers say they have made a "significant step" towards a predictive blood test for tuberculosis.
A DNA fingerprint in the blood shows promise in identifying which carriers of TB will go on to get symptoms and spread the infection.
Such a test would allow earlier diagnosis and treatment of the lung disease, potentially saving many lives.
Experts say the research, published in Nature, is "remarkable" but needs to be proven by further work.
Tuberculosis, or TB, is an infectious bacterial disease of the lungs, causing symptoms such as coughing, chest pains and weight loss.
Someone in the world is newly infected with TB every second, with nearly two million deaths each year.
Only around one in 10 people infected with TB go on to develop the active form of disease.
Currently, although a skin or blood test can show if someone is harbouring TB, but not showing symptoms, it is impossible to predict who will get the full-blown disease.
Researchers from the UK, US and South Africa examined the genetic signature in the blood of patients with active TB.
The same genetic markers were found in about 10% of patients with latent infections, suggesting they are candidates for the full-blown form of the disease.
These patients will now be followed up in the future, to see if they do go on to get symptoms.
Lead researcher Dr Anne O'Garra of the MRC's National Institute for Medical Research in London, said the blood test showed promise but needed further work.
She told the BBC: "If you could predict which so-called carriers of TB will progress to the full-blown disease, this would have major ramifications for stopping the global epidemic.
"We just have to prove it now, but it's very promising."
Mike Mandelbaum, chief executive of the charity TB Alert, said good progress had been made in the diagnosis of latent TB infection in recent years, but there was a need for a specific test for the active disease.
The diagnosis of TB is often difficult to make until the disease has become infectious to others, he said, particularly in the developing world which has fewer resources.
"A new diagnostic technique based on a blood test would be extremely valuable to save lives and prevent the spread of this disease," he said, "and may be particularly important in HIV positive patients with TB where the usual technique of diagnosis from sputum is often unhelpful."
Dr Marc Lipman, chairman of the TB special advisory group at the British Thoracic Society, said it was "a remarkable piece of research".
He explained: "This for the first time perhaps enables us to start to design tests which can predict who is at highest risk of progressing to active disease and also how we might stop that occurring in the first place.
"Any such advance is 20-30 years away," he added.
Related Internet Links
The BBC is not responsible for the content of external sites.