NHS consultants could see bonuses curbed in a review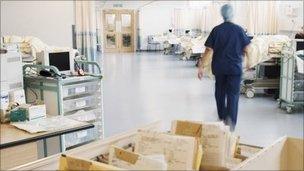 Hospital consultants could see their bonuses trimmed in a review of an NHS scheme which sees some doctors receive awards of up to £76,000 a year.
Clinical Excellence Awards are paid out to consultants who are deemed to have performed over and above the standard expected in their NHS role.
They are in addition to salaries ranging from £75,000 to £100,000.
Savings generated will be redirected into patient care, said Health Secretary Andrew Lansley.
The review, which will be led by the independent review body on Doctors' and Dentists' Remuneration (DDRB), has been commissioned by all four UK health departments.
The number of awards from the scheme, started in 1948, has in fact already fallen amid financial constraints.
But in the last year the NHS still paid in excess of £200m for the awards.
Mr Lansley said: "We want to continue to reward and recognise those individuals who give outstanding patient care and go beyond the call of duty, but we must ensure that the system is effective and affordable.
"The NHS must recognise its responsibilities in the current financial climate as the largest public service in the country and this review will ensure that Clinical Excellence and Distinction Awards are in line with other public sector pay and incentive schemes."
The doctors' union, the British Medical Association, said it would "engage" with the review, "which provides an opportunity to highlight the value of award schemes to patient care.
"These schemes exist to promote quality, efficiency and innovation across the whole NHS, all of which are key aims of the recent health White Paper."
John Stanley, who chairs the Royal College of Surgeons' higher awards committee, has previously argued in the British Medical Journal that any financial benefit in scrapping the scheme would be vastly outweighed by the loss of goodwill and morale among doctors.
"Doctors may feel less inclined to go the extra mile," he said.
Related Internet Links
The BBC is not responsible for the content of external sites.