How will Cameron fare?
By Michelle Roberts
Health reporter, BBC News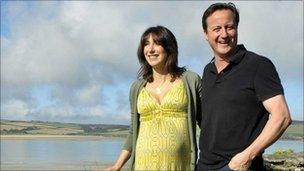 It may be Mr Cameron's fourth time as a father but it's his first time as prime minister and all eyes will be on him to see how he fares - not least because of his party's political focus on parenting.
He's not the first prime minister to have faced the challenge of bringing up a young child in Downing Street. His two most recent predecessors - Gordon Brown and Tony Blair - have done the same.
Like his Labour predecessors, he has made much of his commitment to the family - and the need to teach better parenting skills as a potential cure for society's ills.
The BBC understands Mr Cameron has sought parenting advice of his own, by enlisting the help of a specialist trainer for fathers-to-be.
Although he already has two other children at home - Nancy, 6, and Arthur, 4 - the prime minister may well be feeling a bit rusty when it comes to caring for a newborn.
His refresher course will have reminded him how to feed and wind his new baby girl and interpret her cries, as well as how to manage his own emotions during this testing time.
It is not clear whether he will be a follower of the child-rearing guru Gina Ford who recommends sticking to strict routines. This is certainly not something Mr Cameron's deputy Nick Clegg would recommend, given his recent attack on her methods that he likened to "sticking babies in broom cupboards".
But those who know him agree he is likely to be a hands-on dad.
Most likely, he will take the full two weeks of paternity leave every new dad is entitled to, paid at just over £100 a week. But after this he will be forced to go back to work.
Not through financial pressures like some, but partly because Tory ideas for a new system of flexible parental leave enabling parents to share maternity leave between them or both take time off simultaneously, is not yet an option.
Campaigners say perhaps his experience over the coming weeks will focus his efforts on this.
Once back at work he will face the challenge experienced by most new fathers - balancing professional and home responsibilities.
High on his priority "to-do" list will be his first party conference as prime minister.
But meeting demanding workloads while trying to be a supportive husband and father can be tricky and a great source of anxiety, says Rob Williams, chief executive of the Fatherhood Institute.
"It can put a strain on relationships when the man goes back to work. There can be this negative cycle where the mum feels unsupported and is resentful and irritable.
"The man then gets guilty and stressed and withdraws further, which only reinforces what the mother is feeling.
"Babies are a great thing but they can leave the parents feeling unhappy and the relationship unstable."
Polls suggest over two-thirds of couples say their relationship gets worse after the birth of a child.
And either the mum, the dad, or both, can get depressed after having a baby.
But Mr Williams says sharing the responsibility of bringing up a child can help bring couples together.
"The conservatives are very pre-occupied with stability of relationship, and one of the biggest factors that impacts on this is how equally a couple shares their child-rearing responsibilities."
Dr Ellie Lee, a lecturer in social policy at the University of Kent, says Mr Cameron's family life will be followed with interest by the public and media.
"Parenting has become so politicised that the public will think it is fair to ask how politicians are as parents themselves.
"I'd be surprised if Mr Cameron did not attempt to engage in this.
"Tony Blair presented himself as an ordinary dad coping with sleepless nights and so on. That was part of the script. But it is a very hard line to tread.
"Mr Blair found this out with the MMR vaccine issue when he refused to say whether his son had received the jab."
Related Internet Links
The BBC is not responsible for the content of external sites.