Union challenges NHS 'shake-up'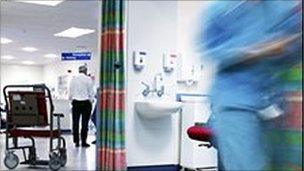 Unison has launched legal action against the government's plans for a major shake-up of the NHS system in England.
The UK's largest public service union claims ministers failed to ask the public if it wanted such fundamental changes in the first place.
The proposals in the health White Paper would hand the responsibility for most health services to GPs.
A consultation on how the changes would be implemented ends on 5 October 2010.
A Department of Health spokeswoman said the government was engaging fully with the public, healthcare professionals, local authorities and unions on how its proposals will be implemented.
But Unison argues the public's view on the White Paper proposals has not being requested and will not be considered.
Karen Jennings, Unison head of health, said: "The White Paper contains sweeping changes to the NHS and how it should be run.
"The NHS Constitution enshrines the principle that the public, staff and unions have an absolute right to be consulted. And that means not only on how the proposals are to be implemented, but also whether they should go ahead in the first place.
"The Department of Health's refusal to recognise this clear and important legal duty leaves us no option but to issue legal proceedings as a matter of urgency."
Unison said that the day after the White Paper was published, NHS chief executive Sir David Nicholson wrote to all NHS chief executives instructing them to start implementing the proposals "immediately".
The union maintains this was unlawful, but the Department of Health disagrees.
A spokeswoman said Sir David Nicholson's letter encouraged the NHS to begin locally led consultations and take first steps on the implementation of the White Paper, without pre-empting the wider consultation.
"Many reforms are also subject to Parliamentary approval as part of the Health Bill.
"Through the proposed changes, healthcare professionals and patients will have more power to shape, lead and deliver local healthcare services, away from the control of central Government," she said.
Unison believes the White Paper opens the door to privatisation of the health service, and warns it would plunge the NHS into "chaos".
Ms Jennings said: "Far from liberating the NHS, these proposals will tie it up in knots for years to come - they are a recipe for more privatisation and less stability."
Under the proposals, hospitals would be moved out of the NHS to create a "vibrant" industry of social enterprises.
The changes would also mean the abolition of all ten strategic health authorities, as outlined in the Lib Dems' manifesto, and the 152 management bodies known as primary care trusts.
Related Internet Links
The BBC is not responsible for the content of external sites.