Pregnancy aspirin advice issued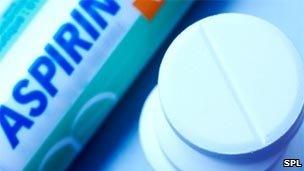 A small dose of aspirin in pregnancy can help prevent high blood pressure complications, expert guidance for the NHS in England and Wales says.
High blood pressure in pregnancy is linked to pre-eclampsia - a leading cause of maternal death in the UK.
The National Institute for Health and Clinical Excellence says women at risk need aspirin from the 12th week of pregnancy until the birth of the child.
Up to 5% of first-time mothers will develop pre-eclampsia, figures show.
And midwives say it is likely to become increasingly common. This is because more women are delaying pregnancy until they are older and more are also overweight - two major risk factors for high blood pressure in pregnancy.
High blood pressure in pregnancy can also lead to premature birth, stillbirth and babies being smaller than average.
Low-dose (75mg) aspirin is not routinely given to pregnant women and NICE hopes the advice will ensure consistent standards across the country.
Fergus Macbeth, director of the centre for clinical practice at NICE, said: "Hypertension, or high blood pressure, can be fairly common and can develop at any time during pregnancy. If not properly managed, it can cause serious health problems.
"That's why it's important that women who are pregnant or planning a pregnancy and who have either been diagnosed or identified as being at risk of developing a form of hypertension, receive a consistent, high standard of antenatal and postnatal care to prevent problems occurring."
Dr Margaret Macdonald, chief executive of the charity Action on Pre-eclampsia, said: "Pregnant women hate to take anything during pregnancy. This guidance is reassurance that it is OK to take aspirin for high blood pressure if you need to.
"Also, the guidance makes sure that GPs, consultants and midwives everywhere are doing this."
The guidance warns against giving women drugs called angiotensin-converting enzyme (ACE) inhibitors and angiotensin II receptor blockers (ARBs), which can increase the risk of congenital abnormalities if taken during pregnancy.
And it says mothers-to-be should be aware that restricting their salt intake will not help prevent high blood pressure during pregnancy.
Women with hypertension or pre-eclampsia should be offered a package of care including admission to hospital for monitoring and treatment, says NICE.
In some cases, the pregnancy may need to be delivered early.
There is still no clear cut test, treatment or cure for pre-eclampsia, say experts.
Related Internet Links
The BBC is not responsible for the content of external sites.