Junior doctors 'leaving NHS training'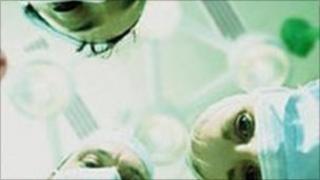 Nearly one in four junior doctors drop out of their NHS training in England after two years, figures show.
The data from the Medical Programme Board, which oversees training, showed 23% of 6,000 doctors did not apply for the next training stage last year.
Although not all are lost to medicine as some take gaps years or continue working in other parts of the NHS.
Unions said the issue was linked to high workloads, but the government said there was no evidence of this.
It is the first year data like this has been compiled so it is not possible to compare the 23% figure to previous years.
But the board is concerned enough to have launched a review to find out why so many are leaving training at the end of year two when they should be starting to pursue specialities, such as surgery.
Natural break
While they are not applying for the next stage of the junior doctor course, it does not necessarily mean they are lost to medicine.
Some doctors take a gap year, while others end up working for the NHS but in posts that do not count towards their training.
Meanwhile, others head abroad to work in places such as Australia.
The British Medical Association said while for many the end of the first two years - known as the foundation course - may represent a natural break, the demands being placed on junior doctors could still be playing a role.
They believe shifts have become more demanding because of the EU working time directive which was introduced into the NHS last summer and limits the working week to 48 hours.
It ended the era of junior doctors working day and night shifts to staff wards, but according to the union has led to those on shift being stretched much further and thus unable to spend time in areas where they want to specialise.
Dr Shree Datta, chairman of the BMA's junior doctors committee, said: "Understaffing makes our work much more intense and does not go unnoticed by our patients."
But a Department of Health spokeswoman said there was no evidence of this.
She pointed out that virtually all the training posts in the NHS were filled - there are always more medics in training than there are training posts to ensure a healthy competition for places.
And she added while the government was looking at how the working-time directive had been introduced there would be no return to "tired doctors working excessive hours".