British Red Cross says teach children alcohol first aid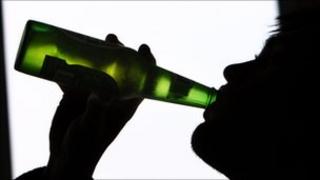 Children should learn first aid skills to help friends who become dangerously drunk, the British Red Cross has said.
Its survey of 2,500 11 to 16-year-olds found 10% had been left with a drunk friend who was sick, injured or unconscious and 14% said they had been in an alcohol-related emergency.
The Red Cross wants to promote a broad range of first aid skills, but says the effects of alcohol are a key concern.
The charity Drinkaware backed the call, but said parents needed to give advice.
Official figures show that there were more than 7,000 hospital admissions between 2006 and 2009 involving under-15s and alcohol.
Many youngsters told the survey that they drank - 23% of 11 to 16-year-olds said they have been drunk, while one in three 14 to 16-year-olds said they drank most weekends.
Many of those who said they had witnessed an alcohol-related emergency said they had panicked, or did not know what to do.
Almost half said they were worried about their friend choking on vomit or simply not waking up.
Curriculum
Joe Mulligan, from the British Red Cross, said: "We need to ensure that every young person, irrespective of whether they have been drinking, has the ability and confidence to cope in a crisis."
The agency hopes new online training materials, including videos on YouTube, will reach children directly.
Its campaign, called Life Live it, is also sending Red Cross trainers into schools and offering first aid packs to teachers.
Children can learn skills including the recovery position, to avoid someone choking on their own vomit, and resuscitation techniques.
Chris Sorek, from charity Drinkaware, said the findings reinforced the need for children of all ages to be educated about alcohol misuse.
"It's not surprising that children under 16 don't know how to deal with alcohol emergencies. Ideally they should enjoy an alcohol-free childhood, so we wouldn't expect them to know what to do.
"But with the young people who drink alcohol drinking at very high levels, it's important they are equipped with the tips they need to keep themselves and their friends safe."
But he said that parents played a vital role in educating their children about the dangers of alcohol misuse.
First aid has been part of the school curriculum for two years, but the survey also found that only 5% of those surveyed had received first aid training at school.
As well as dealing with alcohol-related problems, the campaign aims to help teach children how to help people with asthma attacks, head injuries, choking and epileptic seizures.