Incontinence services condemned by doctors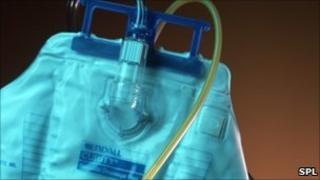 Millions of people in the UK with bladder and bowel problems face a "life sentence" of suffering because of the poor quality of care, say doctors.
A Royal College of Physicians audit of services in England, Wales and Northern Ireland said diagnosis and treatment was often poor or non-existent.
It blamed inadequate training and bad organisation and said incontinence should be given a higher priority.
The government said the audit would be a spur to offering higher quality care.
The audit looked at the cases of more than 18,000 people with incontinence, making it the most detailed evaluation of its kind in Europe.
One in five adults suffers from incontinence, a condition that causes great distress but which health staff and patients often find difficult to discuss.
The authors concluded that services often fail to meet the standards set out by the National Institute for Health and Clinical Excellence (NICE).
'Social isolation'
Dr Adrian Wagg, clinical director of the National Audit of Continence Care, said bladder and bowel incontinence causes ill health, depression and social isolation, costing the NHS millions of pounds.
"Although these are treatable conditions, people of all ages, and vulnerable groups in particular continue to suffer unnecessarily and often in silence with a life sentence of bladder and/or bowel incontinence."
The report said there was evidence that healthcare professionals often failed to ask about incontinence in people at greatest risk, particularly older people, who may be too embarrassed to raise the problem themselves.
It also said they may fail to assess the impact of incontinence on quality of life.
The audit found that only 50% of patients in mental health and care home settings had a treatment plan for urinary incontinence.
It describes provision of training as "patchy", occurring in fewer than half of acute hospitals. The authors said identifying, assessing and treating incontinence must be included in all health care professional training.
And they said patients should be better informed about the causes, and the fact that incontinence can often be cured.
The report also said the "great majority" of continence services are poorly integrated across different settings, such as GP surgeries, care homes and hospitals - resulting in disjointed care for patients. Overall compliance with national guidance from NICE was "very variable".
The audit said the Department of Health in England should ensure that improving services for bladder and bowel problems - based on NICE guidelines - was a priority.
'Age discrimination'
In response, Michelle Mitchell, charity director at Age UK, said: "Incontinence affects more than 1.5 million over-65s, destroying people's quality of life and leading to isolation, loneliness and depression.
"Yet despite the seriousness of the condition, this report shows continence is not a priority for health service, leading to patchy and poor quality care."
She warned that as the UK's population ages, this will be a growing problem.
"Although incontinence disproportionately affects older people, the fact that the over 65s are receiving second-class treatment for the problem compared to other age groups is another shocking example of age discrimination in the NHS."
The Patients Association chief executive Katherine Murphy said its attention had been drawn to this issue through its helpline.
"Continence problems are a silent epidemic with symptoms that can be very distressing and drastically reduce the quality of life of a sufferer.
"Many millions of people are affected and this report shows yet again that too many of them are suffering unnecessarily and not getting the help they need."
A Department of Health spokeswoman said the audit showed a "distressing lack of response to patients' views and needs, a lack of expertise in commissioning continence care, and a lack of integrated care.
"The government's White Paper puts patients at the heart of the service, and will strengthen clinically-led commissioning.
"This audit will be a powerful spur, to enable patients and clinicians to deliver the quality of care patients have a right to expect."