Building a healthier and greener New York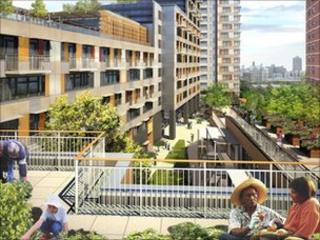 An obsession with convenience is making our cities more unhealthy, according to New York's planning authorities, who are determined to put healthy living back at the heart of urban design.
In the South Bronx, a new low-income apartment complex, Via Verde, is being built for a lifestyle based not on ease and speed but exercise and healthier living through everyday activities.
The development will be dotted with orchards and vegetable plots tended by the residents, bringing green spaces to places typically starved of open areas.
There will be "pocket parks" for exercise and the shops in the complex will offer fresh, healthy food, a rarity in a neighbourhood dominated by fast food outlets.
David Burney, commissioner for design and construction, is promoting projects like Via Verde through new Active Design Guidelines introduced by the city authorities earlier this year.
The guidelines have been drawn up in response to the city's worsening health crisis and provide a toolkit for architects and planners demonstrating how to make everyday urban life a little more calorie-hungry.
"We were a little sceptical at first because we're project managers, not health professionals," says commissioner Burney, the emigre Liverpudlian who decides what gets built in New York.
"But it became clear that there are ways that designers can do their work that does encourage people to keep more mobile," he says.
He points to the staircase outside his fourth floor office in the Queens district as the perfect example.
It is the first thing you see as you enter the building, the lifts take some finding.
Commissioner Burney says the staircase is the architectural centrepiece of the building and no longer "relegated as a fire stair to some dark corner".
The principles have already been taken up in two new landmark Manhattan projects.
The New York Times building, and the Cooper Union School of Art and Architecture, both sport glamorous staircases that are proving to be a magnet for the resident journalists and students.
Obesity crisis
According to the New York health department, 60% of adults and 40% of elementary and middle school children are overweight or obese.
Obesity increases type 2 diabetes rates and places an expensive strain on an over-burdened healthcare system.
"There has been more and more scientific evidence showing that how we build our environments is critical in shaping the behaviours that contribute to these diseases," says Dr Karen Lee, deputy head of chronic disease prevention at the New York City Department of Health and Mental Hygiene.
Historical lessons
Innovation for the new healthy town agenda came from Dr Lee. After despairing at the failure of conventional health education, she decided to look to history for inspiration.
In the mid 19th century the rapidly expanding population of New York City was regularly hit by infectious diseases such as cholera and tuberculosis.
In the 1880s city officials made a conscious decision to fight infection by redesigning the city.
Fresh water supplies were piped in, the subway was built to allow the poor to disperse and new building regulations ensured a minimum amount of light and air reached streets and homes.
By 1940, the death rate from infectious disease had declined from 60% to 11%, an impressive achievement in an age before the widespread use of antibiotics.
On the back of this evidence Dr Lee wanted to explore whether architects and city planners could fight the killers of the 21st century.
"We know from public health history that how we've designed and constructed our environments has been key in controlling the diseases and epidemics that we had in the past," says Dr Lee.
Cycle lanes
Beyond the buildings, the streetscape of Manhattan is already changing.
Car traffic on Broadway has been reduced to a single moving lane through midtown, and the vacant space has been given over to cycle lanes and pavement space for pedestrians with café-style tables and chairs.
There is "a different feeling about walking in the city", says Jeffrey Zupan, senior fellow for transportation at New York's Regional Plan Association.
"The pedestrian isn't a second class citizen who has to always be on the lookout of getting run over," he says.
Cyclists too are enjoying the changes, with a 45% increase in cycle commuting over the past three years.
The Active Design Guidelines point to a future city that reverses the 20th century's relentless pursuit of ease.
It asks citizens to ditch the car and the elevator, to work a little harder in their day to day life.
Commissioner Burney, however, is completely unapologetic.
"People just have to get with the programme. You're giving up convenience for health which isn't such a bad trade-off."
Costing the Earth, The Revenge of the Stairs will be broadcast on BBC Radio Four on Wednesday 22nd September at 9pm and after on BBC iPlayer.