Service veterans 'miss out on NHS treatment rights'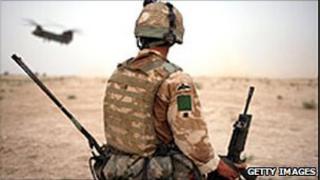 Many former servicemen and women are not benefiting from changes entitling them to priority treatment on the NHS.
GPs are to be issued with new guidelines which will help them identify veterans in their care and get them treated more quickly.
A previous survey found nearly half of GPs were unaware of the changes.
Combat Stress, which helps veterans with mental health problems, said there was often a large delay before veterans sought help.
About 18,000 people leave the services every year, and the majority who need NHS care for physical or mental problems are under 45 years old.
The change in the rules followed pressure from the Royal British Legion, and allow conflict veterans to receive priority treatment for conditions related to their military service.
However, a year later, 59% of veterans referred on by their GP said they were not being seen any quicker than other patients.
The new guidelines come jointly from the Royal College of GPs, the Royal British Legion and Combat Stress.
Many veterans do not declare their history when signing up at a GP practice, so the guidelines advise GPs how to look through their patient lists to identify likely candidates.
It also shows GPs the best way to refer veterans to hospitals or other units to make sure they reach the head of the queue.
Professor Steve Field, the Chairman of the Royal College of GPs, said a large number of GPs' patients were veterans of either wars from the distant past or more recent conflicts in Iraq, Sierra Leone and Afghanistan.
"It is vital that, as GPs, we are properly prepared and resourced to provide them with the care and the services they so need and deserve."
Peter Poole from Combat Stress said that it was important that front-line NHS staff could spot post-traumatic stress caused by military service, and swiftly direct those affected to the right treatment.
"On average, the veterans who seek help from us come to us 14 years after service discharge.
"Too often this delay can lead to marriage break-up, unemployment, social isolation and substance misuse - in short, a total unravelling of a normal life."
The Department of Health is currently working with the Ministry of Defence to replace the way medical records are passed to the NHS after discharge.
Currently, the veterans are given a summary medical record, which gives GPs information on how their full records can be obtained.
The new system would involve directly registering veterans and transferring their records to the GP.