It's good to talk - therapy not pills for depression
VIEWPOINT By Dr Funke Baffour
Clinical psychologist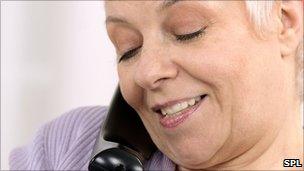 As many as one in five people are thought to be depressed at some point during their lives.
In this week's Scrubbing Up, clinical psychologist Dr Funke Baffour says telephone therapy offers the answers to a busy modern society too stretched to get help.
The exact number of people affected by depression is difficult to estimate, as many people don't seek help.
But are those people who do reach out getting the help they need in the most efficient way?
In 2007, a staggering 31m prescriptions for antidepressants were administered by doctors.
What seems to be prominent is that each year, more and more people are prescribed antidepressants.
A trend is developing where there is a reliance on medication, rather than on other proven interventions such as counselling or therapy.
We should be open-minded though to effective modern alternatives such as telephone counselling.
Although popular with clients - telephone counselling now makes up one in five of my counselling sessions - the benefits are still under-appreciated.
It takes time for counsellors and members of the public to become aware of new approaches and to take advantage of them.
But there are many benefits. Telephone counselling is easier for clients to fit in to their schedules, meaning more people can benefit from help.
It can can also be up to 80% cheaper than face-to-face counselling as there are no travel costs for either party and no need for expensive offices.
And perceived drawback of telephone counselling - lack of face-to-face time - actually turns out to be one of its greatest strengths as one in six people say they're too embarrassed to talk face-to-face about their difficulties.
Telephone counselling empowers people with depression in a way that traditional counselling cannot.
Making it easier for patients
And whilst there are a lot of traditional counsellors - it may be difficult to find someone suitable.
Telephone counselling also breaks down geographical barriers, offering people help wherever they live in the UK. Further, it offers a greater sense of anonymity.
Together, these benefits can result in improved care and better outcomes for patients, which is what we're all working for.
My clients generally state that they previously found it difficult to get time to see their GP or specialist for their problems, and often felt reluctant to seek help.
The benefits of phone therapy are that clients can speak to me when it suits them, whether this is early in the morning or late at night and of course from the comfort of their own homes.
I have also seen the benefits of being able to follow-up with my clients and monitor their progress.
Antidepressants do have a function in relieving a person's symptoms, influencing chemical messengers in the brain to lift a person's mood.
But I do question their use on mild depression as the side effects often outweigh the benefits.
Of course in cases of moderate to severe depression medication can be helpful - even life-saving.
But we do need to offer alternatives to suit every lifestyle, and telephone counselling is a remarkable service that can change people's lives for the better across the UK.
Related Internet Links
The BBC is not responsible for the content of external sites.