Breast cancer partners' mood risk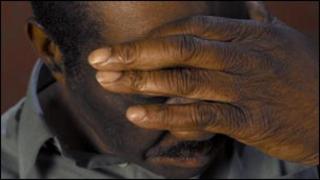 Men whose partners have breast cancer should be checked for signs that their mental health has been affected, say researchers.
A Danish study found that men watching their partner fight cancer were 39% more likely to need hospital care for mood problems.
These, reported the journal Cancer, included severe depression.
Macmillan, which supports cancer patients and their families, said patients' partners should seek support.
This is one of the largest studies looking at the effects of a cancer diagnosis on the mental health of close relatives.
Researchers from the Institute of Cancer Epidemiology in Copenhagen looked that the records of more than a million men aged 30 or older who had no history of mental illness, and who had lived with their partner for more than five years.
Over the next 13 years, breast cancer was diagnosed in the partners of 20,538 of these men.
Subsequently, 180 of them were hospitalised with severe mood disorders, a greater proportion than from men whose partners were healthy.
The severity of the breast cancer had an impact on the likelihood of the man being hospitalised, and if the breast cancer returned after treatment, this also had an increased effect.
Men whose partners died from the disease were more than 3.6 times as likely to need treatment as those whose partners survived.
'Get support'
Professor Christoffer Johansen, who led the study, said: "A diagnosis of breast cancer not only affects the life of the patient but may also seriously affect the partner.
"We suggest that some sort of screening of the partners of cancer patients in general and those of breast cancer patients in particular for depressive symptoms might be important for preventing this devastating consequence of cancer."
A spokesman for Macmillan Cancer Support agreed that cancer had a "devastating impact" on whole families, not just the person diagnosed.
"Men particularly often feel they need to be the strong one and often keep quiet about how they are really feeling.
"This can make dealing with their partner's cancer even tougher, which is why we urge them to get support for themselves too."