Army bands told 'wear earplugs'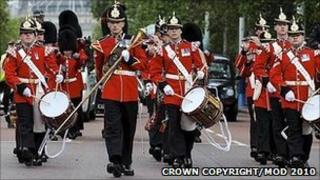 Britain's Ministry of Defence has ordered its bandsmen to wear earplugs to conform with health and safety laws.
All military musicians will now be required to "plug up" before playing their noisy instruments to protect their hearing.
The charity RNID said it fully backed the move.
But some bandsmen are concerned it could impair their performance, making them play out of tune or out of time.
The ruling applies to all members of Corps of Army Music and could see those attending the annual Trooping the Colour parade wearing plugs.
Lieutenant Colonel Bob Meldrum, principal director of music for the Army, admitted that performing music whilst wearing hearing protection was "not without its challenges", but he said the rule was there to protect Service musicians from noise-induced hearing loss.
Many musical instruments can reach volumes in excess of 100dB - the equivalent of a pneumatic drill at close range - and could damage hearing over time.
Emma Harrison of the RNID said there were a range of earplugs that filtered rather than muffled sound enabling musicians to play in safety with the music still clearly audible.
"We know from research how important it is to protect your hearing from loud noise.
"Many musicians who don't use earplugs are putting their hearing at risk because they are playing very loud music for long periods of time.
"Even if your hearing is not permanently affected, the way your brain processes sound may be changed which could result in tinnitus," she said.