Pregnant women to be offered seasonal flu jab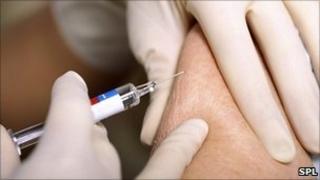 All pregnant women will be offered the seasonal flu jab for the first time, under plans unveiled by the government.
The one-off move has been sanctioned as the swine flu virus - which is more risky for pregnant women than others - is likely to be still circulating.
The vaccine will offer protection against that and two other flu strains.
As well as pregnant women, it will be offered to the normal target groups - the over 65s, people with conditions such as diabetes and health workers.
This amounts to more than 14 million people, of which pregnant women account for about 500,000.
The Department of Health said GPs will have already started getting the vaccine and should complete the £100m programme by December.
Evidence
Officials urged all the at-risk groups to come forward - take-up traditionally varies between about 75% for the elderly and 50% for those with health conditions, to just over 10% for health staff.
While it is a temporary move because of the swine flu risk, experts are currently reviewing evidence which could lead the government to keep pregnant women in the eligible group in future years.
Other countries, including the US, already offer it to pregnant women and they were included in the UK swine flu vaccination programme.
Some pregnant women in the UK will also have had the seasonal vaccine in the past, as a number would have fallen into the group targeted because of underlying health conditions.
It had long-been anticipated that this winter's flu jab would include protection against swine flu.
The other two strains are ones that evidence from the southern hemisphere, which has been through its winter season, suggests are in circulation.
However, the move has caused some concern among GPs, as they know some patients refused the swine flu jab last year - despite regulators dismissing any safety fears.
The General Medical Council has urged doctors to be up-front about what is in the vaccine.
Jane O'Brien, the assistant director of standards at the GMC, said: "Doctors must give patients the information they want, or need, so the patient can make a decision about treatment.
"This would include telling a patient this year's seasonal flu jab contains the swine flu strain if they think the patient may have concerns about it."
Professor David Salisbury, the government's director of immunisation, said patients would be "foolhardy" to not have the vaccine because of fears about the swine flu strain.
"To not have the vaccine because of a prejudice about swine flu is putting yourself at unnecessary risk. That attitude is ignoring the realities of the risk."