Research widens height gene hunt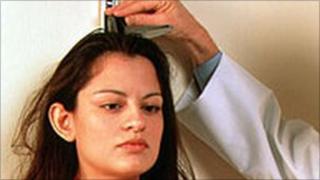 Research involving more than 180,000 people has shed light on the complexity of the genetic code which governs our height.
The international study reveals differences in 180 different places in our DNA which may play a role in deciding how tall we will be.
These areas are linked to genes affecting skeletal growth, bone density and obesity, the Nature journal says.
Further progress would need even bigger studies, say UK researchers.
An estimated 80% of differences in height are thought to be due to genetic factors, but, unlike disorders produced by a single, identifiable gene defect, there are no simple differences to be found in six-footers.
Instead, research points to the cumulative effect of a large number of different genes.
Height development
Separating the effect of these common genes is difficult, unless the genetic code of vast numbers of people is analysed.
To do this, dozens of researchers pooled the results of their smaller genome-scanning studies, creating the 183,000-strong group of "subjects".
They found genetic variations linked to height in 180 locations in DNA.
These were not simply randomly scattered across the genome but often found in areas already known to contain genes which could be linked to height development.
For example, 21 of the 180 were found near genes known to influence abnormal skeletal growth in rare cases, suggesting that they may regulate how these genes work.
Dr Joel Hirschhorn, lead author of the study, from the Children's Hospital in Boston, the Broad Institute and Harvard Medical School, said: "This paper is the biggest step forward to date in understanding which of the genetic variants that differ between people account for our differences in height."
Dr Mike Weedon, from Peninsula Medical School in south west England, was one of the UK researchers involved in the project.
He said: "We have found clues to how genes related to growth are being regulated by nearby genetic variants as well as identifying new candidates that may play a role in growth."
However, his colleague, Professor Tim Frayling, said that the problem was "even more complex" than had been believed, and more powerful and bigger studies might be needed to understand the biological pathways underlying growth and height.