'He washed his hands until they were cracked and bleeding'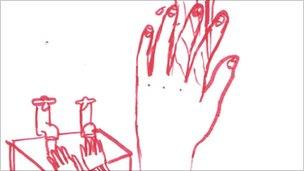 Pinned to a noticeboard somewhere in London's Maudsley Hospital is a photo of a schoolboy eating his lunch from a toilet seat.
Most parents would be horrified at such a sight, but for one mother it was a welcome sign her son was finally beating OCD - his "nightmare" illness - after a specialist course of psychological treatment.
The treatment - known as cognitive behaviour therapy (CBT) - gradually exposes people to the things they fear, in this case, germs and contamination, helping them beat their anxiety.
"OCD doesn't go away, you don't grow out of it, but you can learn the skills to deal with it," she explains. "He now knows how to fight it, he's been given a new lease of life."
Obsessive compulsive disorder (OCD) affects as many as three children in every 100. It is marked by unwanted obsessions and thoughts, and repetitive behaviour, such as hand-washing.
"He washed his hands until they were cracked and bleeding," says Sandra, from Hertfordshire, (not her real name). "Our whole family life was a bag of stress."
The illness can be severely disabling. At one point, John (not his real name), couldn't sit on a toilet seat or any chair on public transport, he couldn't sleep because of intrusive thoughts, he couldn't shower over fears the water was contaminated and he wouldn't eat.
 "I thought I was going to die from touching a doorknob," he explains. "It's very terrifying, upsetting, one of the worst mental illnesses in my experience."
 John was eight when symptoms first appeared. His mother noticed him making strange movements, such as kicking his leg out at an odd angle.
At first she thought he was just "messing around" and would grow out of it. But after the death of his grandfather, whom he was close to, he developed fears about dirt and germs, and was referred to the local child and adolescent mental health service.
"Up to then he had been a typical boy - a real grub," says Sandra. "But then he started washing his hands more."
The diagnosis of OCD came as something of a relief for the family.
 "Once you've got a label for something like that you're blaming the label not the child," says his mother. "It's the OCD that's naughty and stupid, not the boy."
 John was given anti-depressants but despite medication often being an effective treatment he "started spiralling down very quickly".
"He said, 'I want to die, I'm going to kill myself, I can't go on,'" says his mother.
She was referred to Dr Isobel Heyman, who works at the Institute of Psychiatry at the Maudsley and Great Ormond Street Hospital.
John underwent a course of specialised CBT, the only recommended psychological treatment for OCD.
The treatment, carried out by experienced therapists, gives sufferers the tools to confront and deal with their obsessions. In some areas, however, specialist help is hard to access, with long waiting lists and a shortage of trained therapists.
Dr Heyman and colleagues are carrying out a trial to see if it can be delivered effectively by trained therapists over the phone.
"People can be spread further," says Dr Heyman. "It smooths out the postcode lottery."
John says the treatment was a turning point. "They really believed in me, so did my mum. I really thought to myself, I'm going to fight this."
 John, now 14, is in recovery. But the family are aware that he will need to remain alert to OCD creeping back into his life.
"I'm constantly on my guard," says his mother. "There's OCD in all of us to an extent - but when it affects how you live, then it becomes a problem."
If families are interested in more information about this study they can telephone 020 3228 5222. Young people's art depicting OCD courtesy of National OCD Service, Maudsley Hospital Children's Department.
Related Internet Links
The BBC is not responsible for the content of external sites.