Arrests over Aids drugs in India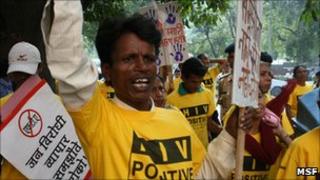 Four Aids activists and a charity worker have been briefly arrested in India during demonstrations in Delhi.
They were campaigning against EU trade negotiations which they say threaten the production of generic drugs.
The EU trade commission says its discussions will have no impact on the legitimate trade of generic drugs.
A large proportion of Aids medicines used to treat people in low and middle-income countries are generic drugs from India.
The medical charity Medecins Sans Frontieres (MSF) is campaigning against the trade negotiations.
It is concerned that, if patents are granted on new Aids medicines in India, cheap generic versions will no longer be available.
The office for the EU Trade Commissioner said that it was currently negotiating a free trade agreement with India.
But MSF fear this will significantly impact their ability to provide anti-retroviral therapy to 160,000 patients around the world.
Dr Unni Karunakara, President of MSF's International Council, said: "We depend on access to affordable generic medicines like those produced in India to treat all kinds of diseases.
"We buy 80% of our Aids medicines from India - medicines that keep 160,000 people alive today."
But the ruling may not only affect HIV patients in India. According to MSF, the negotiations threaten every aspect of getting treatments to patients.
They claim the production of a generic medicine, its registration, and its transportation to patients in other parts of the world is at risk.
The use of generic drugs is largely credited with reducing the cost of Aids treatments from more than $10,000 per (£6,271) person a decade ago to under $70 (£44) today.
Violent clashes
Leena Menghaney, MSF Access Campaign lead in India, was arrested during the protest of the Delhi Network of Positive People in front of the Ministry of Commerce where the European negotiators were meeting the Indians.
She told the BBC that the protest was quite violent.  "I have never seen so many police people with batons and guns."
There is currently increased security in Delhi because of the Commonwealth Games.
Four Aids protesters were also arrested. The international medical organisation said that everyone has now been released.
The Office of the EU Trade Commissioner defended its discussions.
John Clancy, EU Trade spokesperson, challenged MSF to show in what way the EU was standing in the way of generic medicines.
He told the BBC: "The EU has never and will never stand in the way of the production of legitimate generic medicines.
"The EU is in favour of providing access to medicines to people in need and these negotiations with India do not stand in the way of this.
"Patents are important, they need to be protected. The European pharmaceutical companies say that the patents need to be protected otherwise the production of new drugs will be seriously in peril."