Drug users are turning to legal highs - report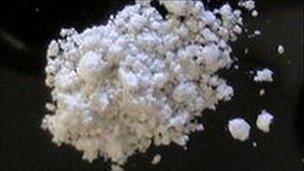 Young adults are turning to so-called legal highs as they seek alternatives to other drugs, according to experts.
The National Treatment Agency for Substance Misuse report warned the drugs had emerged as an alternative to the "low quality" of other substances.
Over the past years, the number seeking help for cocaine, crack cocaine and heroin use all fell.
But this was largely down to large reductions in the under 25 age group, as the number of over 40s actually increased.
The NTA believes this reflects the fact the "Trainspotting" generation who got hooked in the 1980s are now ageing and increasingly developing problems linked to their sustained drug use.
The findings also chime with British Crime Survey figures which show overall drugs use has been steadily falling in recent years.
Less than 1% of the population use the most harmful drugs - crack cocaine and heroin.
The NTA figures showed that over the past year the number of people needing treatment for cocaine fell by 15% to 7,304, for crack cocaine by 17% to 3,686 and for crack and heroin together by 16% to 21,341.
This is almost entirely due to large falls in the under 25s seeking treatment as the over 40s have been rising in recent years.
For example, the number of over 40s being treated for crack cocaine or heroin use has risen by a third over the last four years.
The report, compiled with the help of Glasgow University, warned there was some anecdotal evidence of a move towards synthetic compounds known as legal highs, such as mephedrone, among younger age groups.
However, the NTA said it had yet to see many people wanting treatment for these, although it warned that could happen in time.
Peter Kelsey, of Lifeline Redcar and Cleveland, which helps drug users, said: "People hear the word legal and they think safe. Yet it's anything but.
"We're seeing a big rise in people coming to us because of legal highs, which we think may be down to the poor quality and price of coke and the legal aspect."
The government has already responded to the use of so-called legal highs.
Mephedrone - also known as Meow, Bubbles and M-Cat - was banned and made a class B drug in April.
The Home Office has also announced plans for year-long bans that could be introduced quickly if new drugs take off.
NTA chief executive Paul Hayes said the agency now had to "refocus" the treatment system in response to these trends.
Related Internet Links
The BBC is not responsible for the content of external sites.