Too much screen time 'risks children's mental health'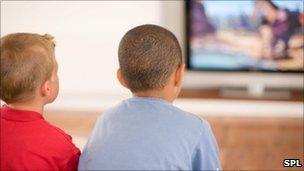 Children who spend longer than two hours a day in front of a computer or TV are more likely to suffer psychological difficulties than other youngsters, a UK study suggests.
Researchers said they also found that physical exercise did not make up for too much screen time.
The University of Bristol study, published in Pediatrics, involved more than 1,000 children aged about 10.
Its lead author said a two-hour screen limit per day was a sensible guideline.
Researchers measured the time children spent in front of a screen as well as their psychological well being using a questionnaire.
In addition, an activity monitor recorded both children's sedentary time and moderate physical activity over seven consecutive days.  
The questionnaires contained 20 questions covering five sections - emotional difficulties, conduct problems, hyperactivity or inattention, friendships and peer groups and problems relating to friends and peer groups.
The study found that those children who spent more than two hours per day watching TV or using a computer were at an increased risk of psychological difficulties.
This risk increased if they also failed to meet the guidelines on physical activity.
Those children who spent more time being sedentary, such as reading and doing homework, had better psychological scores overall, the study found.
Yet, contrary to what researchers predicted, those children who did more moderate physical activity fared better in certain psychological areas, including emotional and peer problems, but they fared worse in other areas related to behaviour, including hyperactivity.
Dr Angie Page, lead study author from the University of Bristol's centre for exercise, nutrition and health sciences, said: "Whilst low levels of screen viewing may not be problematic, we cannot rely on physical activity to compensate for long hours of screen viewing.
"Watching TV or playing computer games for more than two hours a day is related to greater psychological difficulties irrespective of how active children are."
The study says that those children who did fewer than 60 minutes of moderate to vigorous physical activity per day were at an increased risk of psychological difficulties if they spent more than two hours using a computer or watching TV.
This is consistent with other studies that show an enhanced negative effect for those children with both high screen-viewing and low physical activity levels, the study reports.
"Not all screen viewing is bad," said Dr Page, "and at low levels physical activity may well compensate, but the two-hour limit is a good, sensible guideline for parents."
There are currently no official screen-viewing guidelines in the UK.
The study, which forms part of the University of Bristol's PEACH Project, was funded jointly by the National Prevention Research Initiative (NPRI) and the World Cancer Research Fund (WCRF).
Related Internet Links
The BBC is not responsible for the content of external sites.