Salt and fat content 'too high' in child hospital meals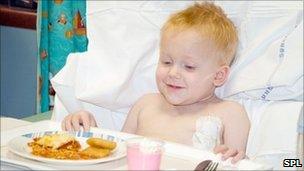 There is too much salt and fat in the food served to children in hospital, a survey suggests.
Research from Consensus Action on Salt and Health (Cash) found 85 of the 189 child hospital meals tested would be too unhealthy to be served in schools.
The meals exceeded salt and fat limits for school lunches introduced in 2008.
Campaigners want ministers to bring in nutritional guidelines for hospital food. The Department of Health said it was concerned about the findings.
The research also found that one in three of all 451 meals surveyed would be classified as "red" for saturated fat or salt, according to the Food Standards Agency's traffic light labelling scheme.
A chicken tikka masala and rice served in a hospital, for example, was found to contain 14 times more salt (2.2g) and 8.5 times more saturated fat (6g) than a chicken and vegetable balti with rice, served in a school.
A hospital lasagne contained nearly six times more salt than a lasagne served in schools - 3.2g compared with 0.57g.
The survey found that pizza in hospital contained nearly double the amount of salt of a school version (2.43g compared with 1.35g per portion).
A sticky toffee sponge pudding with butterscotch was also six times higher in saturated fat than a similar pudding served in a school (19g compared with 3g per portion).
The findings came from a survey carried out by Cash and campaign group Sustain, which looked at the nutritional content of meals which were provided by leading hospital food suppliers across the UK.
They then compared them with the nutritional standards set out for schools - which set out limits for particular meals.
Professor Graham McGregor, from the Wolfson Institute of Preventive Medicine and chairman of Cash, said: "With everything we know about the risk of children developing high blood pressure and diet-related diseases such as obesity, it is vital to keep their consumption of salt and saturated fat as low as possible, while still being appetising."
"When such great progress has been made on what pupils are eating in school it is shocking that children in hospitals are being ignored."
The government introduced mandatory school nutritional guidelines in 2008 to try to make sure that children were given the right mix of energy and nutrients in their school lunches.
A survey by the School Food Trust this year shows that 41% of primary school pupils now eat school lunches, an increase of 2.1% on 2008-09.
MP Joan Walley believes there should be legal nutritional standards for food served in all public sector institutions, like hospitals, care homes, universities and in the armed forces - not just schools.
She said: "It is really important that children are served food in hospital which they like, but we must also make sure that it is nourishing and healthy for them to eat."
She has introduced a bill to Parliament and says the onus is now on the government to accept it.
A Department of Health spokesman said they were concerned about the survey's findings.
"We recognise the importance of good quality food for patients of all ages, both in terms of improving their health and in relation to their overall experience of services.
"Tools are available to support caterers in assessing the nutritional content of meals."
Related Internet Links
The BBC is not responsible for the content of external sites.