Baby P doctor seeking to quit practising medicine in UK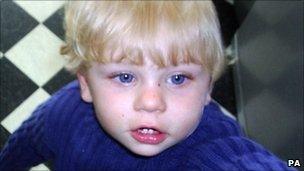 A doctor accused of failing to spot signs that Baby P was being abused is seeking to quit practising medicine in the UK.
Dr Sabah Al-Zayyat was originally due to face misconduct allegations in February, but the hearing was adjourned after the panel heard she was suicidal.
The General Medical Council has now heard that the locum paediatrician is renewing a bid to apply for "voluntary erasure" from the medical register.
The GMC could ban her from UK working.
Dr Al-Zayyat's lawyer Mary O'Rourke said the application for voluntary removal from the medical register would be based on "medical grounds" because the doctor is "unfit to stand trial and defend herself".
The panel was told the doctor is out of the country and in contact with her defence via telephone.
Dr Al-Zayyat saw 17-month-old Peter Connelly at St Ann's Hospital in Haringey days before his death in 2007.
She is accused of failing to carry out an "adequate examination", investigate his injuries or admit him to hospital.
A post-mortem examination found he had probably suffered serious injuries, including a broken back and fractured ribs, before he was examined by Dr Al-Zayyat.
Dr Al-Zayyat is also accused of knowing Peter was on the child protection register.
In addition, she is alleged to have applied for a job in Ireland without telling her prospective employers there were conditions on her registration as a doctor.
She is also facing a new allegation that she claimed in a CV that she had worked continuously for four and a half years as a consultant paediatrician in a Dublin hospital when in fact she had held 11 non-continuous locum posts.
Dr Al-Zayyat had her contract with Great Ormond Street Hospital terminated after details of Peter's case came to light.
She has since launched a claim for damages against the hospital over her dismissal.
The GMC hearing continues.
Related Internet Links
The BBC is not responsible for the content of external sites.