First trial of embryonic stem cells in humans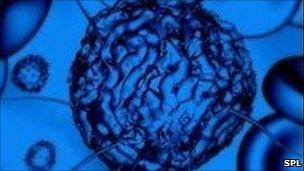 US doctors have begun the first official trial of using human embryonic stem cells in patients after getting the green light from regulators.
The Food and Drug Administration has given a licence to Geron to use the controversial cells to treat people with spinal injuries.
The cells have the potential to become many of the different cell types found in the body, including nerve cells.
The trials at a hospital in Atlanta will check if the treatment is safe.
Geron, a biotech company based in "silicon valley" south of San Francisco, has spent $170m on developing a stem cell treatment for spinal cord injury.
The research will use cells coaxed to become nerve cells which are injected into the spinal cord.
In animal trials of the treatment, paralysed rats regained some movement.
But it is not yet known if it will offer any benefit to people with spinal cord injuries.
Every year around 12,000 people in the US sustain spinal cord injuries. The most common causes are automobile accidents, falls, gunshot wounds and sports injuries.
In the trial, patients who have sustained such an injury within the last 14 days will be given the experimental stem cell treatment.
Geron president Dr Thomas Okarma said: "When we started working with human embryonic stem cells in 1999, many predicted that it would be a number of decades before a cell therapy would be approved for human clinical trials.
"This accomplishment results from extensive research and development and a succession of inventive steps."
But it will take some time to get the results.
And there are many years of rigorous testing ahead before it can be known if the therapy is safe and effective.
Professor Sir Ian Wilmut, director of the Medical Research Council Centre for Regenerative Medicine at the University of Edinburgh, said: "This is very exciting news, however, it is very important to appreciate that the objective of trials at this stage is to confirm first of all that no harm is done to patients, rather than to look for benefits.
"Once that has been confirmed then the focus moves on to development and assessment of the new treatment."
Ben Sykes, executive director of the UK National Stem Cell Network, said: "This is indeed a significant milestone in our journey towards the promise of stem cell-based medicines.
"The global stem cell and regenerative medicine community will be awaiting the results of this safety trial with much anticipation."
Professor Chris Mason, an expert in regenerative medicine at University College London, said UK researchers hope to follow suit and begin trials next year with a stem cell treatment for age-related macular degeneration - a leading cause of blindness.
Related Internet Links
The BBC is not responsible for the content of external sites.