Prostate cancer urine test nears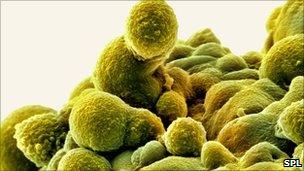 British scientists have moved a step closer to developing a simple urine test to identify men at risk of getting prostate cancer.
They have discovered that a protein found in urine is affected by a genetic change linked to the cancer.
More research was needed, but their work could lead to the development of a reliable test costing £5.50 ($8.82).
Prostate cancer is the most common cancer in men in the UK, killing about 10,000 men in Britain every year.
There is currently no routine screening programme in the UK, although men with a family history of the disease can have a prostate specific antigen (PSA) blood test to detect signs of the disease.
But this is notoriously inaccurate and although 10-15% of men will have high enough PSA levels to warrant carrying out a prostate biopsy, only 2-3% will require any treatment.
Levels also appear to be affected by tumour aggressiveness.
Study leader Dr Hayley Whitaker, from Cancer Research UK charity's Cambridge Research Institute, said: "We looked in tissue and urine from over 350 men with and without prostate cancer to find out how much MSMB they had.
"We then looked to see who had the genetic change. It was really exciting to find out that the genetic change and the amount of protein were linked.
"The protein is easy to detect because it is found in urine and would potentially be a very simple test to carry out on men to identify those most at risk of developing the disease."
Dr Kate Holmes, research manager at The Prostate Cancer Charity, described the test as "potentially... a powerful way to predict how likely a man is to develop prostate cancer".
Related Internet Links
The BBC is not responsible for the content of external sites.