Nestle official health logo permitted 'in error'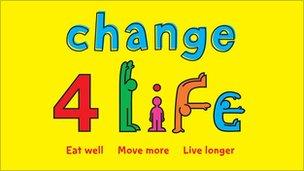 Nestle, the food manufacturer, was wrongly allowed to use a government health logo on its website, the Department of Health admitted.
The anti-obesity Change4Life logo should have appeared only alongside a healthy lifestyle message.
Instead, it appeared on a website promoting snacks and cereals.
The government says it will review the logo's use and Nestle said it would act on any advice given.
Nestle displays the logo on its getsetgofree.com website, which encourages shoppers to collect tokens from their products to claim free family activities.
A survey by the Children's Food Campaign found that 24 out of 27 products included in the Get set go free promotion are officially categorised as "high in sugar", according to the nutrition labelling system developed by the Food Standards Agency.
One of the key messages of the Change4Life campaign, of which Nestlé is a partner, is sugar swaps, asking families to swap food and drink with added sugar for products lower in sugar or sugar free.
Health Secretary Andrew Lansley recently announced that government funding for the Change4life campaign was being scaled back.
Instead, Mr Lansley said he wanted to see business take on responsibility for funding the campaign.
The Department of Health had encouraged businesses and organisations to help them promote a healthier and more active lifestyle.
A Nestle spokesperson said: "The use of the Change4Life logo on our website was approved and agreed by the Department of Health.
"We will continue to work with the Department of Health and will act on any changes they advise us to make."
"Get Set, Go Free is about getting families active and giving them the chance to try out new activities for free. Through the promotion we have given away 1.6 million free activities since 2006.
"It runs across a range of products and to take part in a swimming or an exercise class you only need to buy one box of cereal or three single confectionery products."
The Department of Health admitted that an error had been made when it approved Nestle's use of the logo on the website.
A spokesperson said: "We are harnessing the power that companies like Nestle have with consumers to build awareness of Change4Life and healthy behaviours.
"Nestle has provided support to the Change4Life movement in a number of ways over the past year including promoting the importance of a healthy diet to their employees, as well as encouraging families to be more active as part of their Get Set Go Free campaign.
"We're working with Nestle to review the use of the Change4Life logo on the Get Set Go Free website."
Christine Haigh, co-ordinator of Children's Food Campaign, said: "This is yet another example of the food industry claiming to promote healthy lifestyles whilst in fact encouraging families to eat more junk food.
"No company that uses these practices should be allowed to be associated with a government health campaign, and this should be a wake up call for the Department of Health which wants to see companies like this more involved in the Change4Life campaign, not less."
Related Internet Links
The BBC is not responsible for the content of external sites.