'No-one knew Sarah was ill - but she died in her sleep'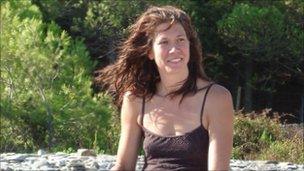 Sarah met Laura while backpacking round Australia.
They formed a close bond and shared a flat for six months in Sydney before both heading back to the UK.
Over the years the two kept in touch, despite marrying and having three children each.
But one day Laura Berrill received the shocking news that Sarah Didinal had died in her sleep - at the age of just 37.
"We clicked straight away, and it was amazing how two strangers, randomly meeting on the other side of the world, could create a close friendship so quickly, which would last right until her untimely death only 12 years later at the age of 37," Laura said.
"A few weeks after meeting, we both had enough money to get a tiny flat to share just around the corner from the beach. It was so much fun and probably one of the best times of my life. We worked hard, partied hard and laughed hard for six months"
Laura, from St Albans in Hertfordshire, says she can never come to terms with losing Sarah so unexpectedly, from a condition she had never heard of - myocarditis.
Myocarditis is inflammation of the heart's muscle and is usually caused by a viral infection.
Now Laura is trying to draw attention to the fact that young and seemingly healthy people, like Sarah, can be at risk.
Every day in Britain, one person aged under 35 dies from a sudden death. Myocarditis, which Sarah had, can cause a cardiac arrhythmia.
"There were no symptoms, nothing, she was perfectly healthy," said Laura. "She did not smoke, but she never stood a chance. She had had a bit of a cold and a sore throat and that was it. She went to bed and didn't wake up.
"I know she did not suffer but it is just so sad. It is very difficult to comprehend."
"I think about her every day and it hit me so hard - but what about her husband Andy, her parents and her three kids - Luke, Tom, Cameron - all under 11?
"There was no other real sense to be made out of her death, and for the desperate loss felt by her family and friends.
"It should never have been Sarah as she loved life so much and had so much to live for. And so much more to give.
"Sarah died in her sleep after having a lovely day - her last tweet said: 'Going to bed happy'.
"That broke my heart in an instant because it so truly summed up what Sarah was all about.
"I can't help but feel it was so wrong and I wish to this day there might have been something that could have stopped it, even though I know there wasn't."
In the year since her friend died, Laura has tried to alert people to SADS, including doing a fun-run to raise awareness.
"I knew nothing about it before. I just want people to know."
Anne Jolly from SADS UK said that because of their suddenness, deaths like Sarah's, that of footballer Marc Vivien Foe and - most recently - Stephen Gately from Boyzone, left families bewildered.
But she said there were signs that could alert people to their risk.
"The charity especially highlights the fact that young people can suffer from cardiac conditions," she said.
"SADS UK has urged [the] government to introduce cardiac assessment at the GP surgery, [and] to question family and personal medical history, to identify people at risk of SADS," she said.
"Awareness and understanding are fundamental in preventing loss of further life, both within the same family and other families as yet unaffected.
Related Internet Links
The BBC is not responsible for the content of external sites.