'I'm not ready for my life to be over'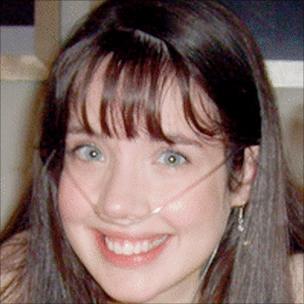 For more than three years Tor Tremlett has been waiting for a double lung transplant.
When she was first assessed for a transplant - back in July 2007 - she was told she had just 18 months to live. She has been living with cystic fibrosis since she was two years old, but she is fully aware that time is running out.
"I have so many dreams that I want to accomplish," the 23-year-old says.
"I'm not ready for my life to be over yet. Transplant is a risk but it's the best chance I have.
"If I do get my transplant in time I will never forget the kind stranger and their family who gave me the chance to live, they would be remembered with every single breath.
"I am constantly aware half the people on the transplant list die because of the chronic lack of donors. It's heartbreaking.
"The list is a lottery, utterly dependent on the perfect match. I'm literally on borrowed time."
But she says waiting for the call from Harefield Hospital that could change her life has taken its toll.
"Every single day is a fight to keep going, and the possibility of getting that call for transplant is the glint of hope that pulls me through each day," she said.
"At 23 this is not the life I planned for myself - restricted, dependant and often terrifying."
Tor knows that the next infection could be her last.
"I have 20% lung function so there isn't much to lose," she said.
"Every day is a tremendous struggle, I am exhausted from morning to night, I use oxygen 24/7 to support my failing lungs and a wheelchair to get around outside.
"I have a non-invasive ventilator to help clear my lungs of mucus and each night I pass a tube through my nose and down my throat and into my stomach to do overnight feeding. Maintaining weight is crucial to staying on the transplant list.
"I need help to do the simplest task. Getting washed, brushing my hair, dressing are all beyond me now as I get so breathless. Mum has to help me with everything.
"My treatment regime is enormous now and it's a constant effort to try and retain the lung function I have."
In a bid to tell others about what it is like living on the transplant list, Tor tweets and blogs.
"I had read other transplant blogs which I found both reassuring and enlightening, and I wanted to do that for someone else.
"I also wanted a record of life pre-transplant so that I would never forget the biggest roller-coaster journey of my life.
"Blogging has given me so much I wouldn't have dreamed possible. Waiting for transplant is such an emotional, unbelievably difficult time but blogging is a cathartic experience that really helps me to deal with how I'm feeling.
"It has also given me confidence to talk about my story and share it with others to raise awareness of organ donation.
"At a time in my life when lots of things are out of my control, being able to raise awareness and help not only myself but others is hugely important to me.
"The response to my blog has been brilliant, I've met so many lovely people and got so much support. At my lowest times I've been touched by all the love and kindness sent my way. It's really helped me keep going.
"There are currently 8,000 people waiting for an organ transplant and by encouraging others to sign the donor list I am increasing the chances for everyone waiting including myself.
"My story is the best tool I have at my disposal to let others know the reality of waiting for transplant and make them realise what a difference organ donation can make."
Gemma Matthews from the Cystic Fibrosis Trust said that it was through patients like Tor being brave enough to tell their stories that the cause is highlighted.
"For young people like her, who are very ill awaiting a transplant and spend a lot of time at home, blogging is a link to the outside world and a way of documenting the ups and downs of life on the transplant list.
"Her blog is very popular and really gives you an insight into what it is like when you are desperately waiting for that phone call."
Related Internet Links
The BBC is not responsible for the content of external sites.