Early menopause gene research could predict problem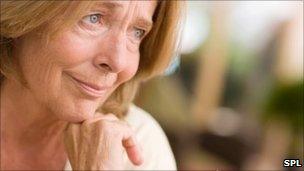 Research into the genetics of early menopause may lead to a simple test for women, says a UK scientist.
One in 20 women starts their menopause before the age of 46 - which can affect their chances of conceiving even a decade earlier.
The study, published in Human Molecular Genetics, found that four genes working in combination appeared to raise the risk significantly.
This could eventually help identify women at greatest risk.
Menopause is normally triggered when the number of remaining eggs in the ovary falls below about 1,000.
However, the biological controls which determine how quickly this ovarian egg reserve is used up are less well understood.
The researchers, from the University of Exeter and the Institute of Cancer Research, looked at four genes already thought to have some link to the menopause.
They took 2,000 women who had experienced early menopause, and a similar number of women who had entered the menopause at the normal age.
They found that the presence of each of the four genes appeared to have some influence on the age of menopause.
When more than one was found in a woman's genetic makeup, the impact was even greater.
Dr Anna Murray, from the University of Exeter, said that the ability to predict menopause was not just important at the time, but could be crucial to decisions made many years earlier.
In particular, the quicker-than-expected depletion of the egg reserve could make a difference to a woman's ability to conceive.
She said: "It is estimated that a woman's ability to conceive decreases on average 10 years before she starts the menopause.
"Therefore, those who are destined to have an early menopause and delay childbearing until their 30s are more likely to have problems conceiving."
She added: "These findings are the first stage in developing an easy and relatively inexpensive genetic test which could help the one in 20 women who may be affected."
Professor Anthony Swerdlow, from the Institute of Cancer Research, described the findings as a "valuable step" towards helping women work out if they are at risk.
"This may in turn allow them to make informed decisions about their future fertility," he said.
This is not the first attempt to find a way to identify those women who are at greatest risk of an early menopause.
Other methods include using ultrasound to assess the number of eggs left in the ovary, to try to work out how quickly that number is falling.
The latest study is part of a major effort - the Breakthrough Generations Study - following the fortunes of 100,000 women in an effort to reveal the causes of diseases such as breast cancer.
Iranian scientists also say that measuring levels of a hormone called AMH on a three-yearly basis may also be able to predict the problem years in advance.
Related Internet Links
The BBC is not responsible for the content of external sites.