Organ donation errors 'avoidable'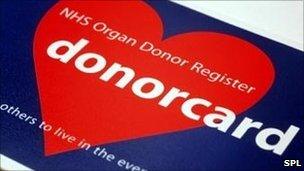 An independent review finds avoidable errors led to the wrong organs being removed from 25 NHS donors in the UK.
Sir Gordon Duff, who led the review, says the blunder was due to faulty computer software used by UK Transplant to record donor wishes.
As many as 800,000 people on the UK donor register may have had their preferences about which organs they wished to donate recorded incorrectly.
He said new measures should avoid another error occurring.
Sir Gordon praised the actions already taken by NHS Blood and Transplant (NHSBT) to safeguard the system.
But he said in his report that the longer-term solution would be to enlist the help of experts to create a more secure, interactive system with better data verification and cross reference functions.
With over 17 million registrants, there is a growing need for the register to become more interactive, he said, and urged the NHSBT to have a redesign "as soon as resources allow".
The error originated when faulty data conversion software was used to upload data on donation wishes from the Driver and Vehicle Licensing Agency (DVLA) when it moved to a new computer system.
The issue only came to light in 2009 when NHS Blood and Transplant started to write to donors to check their organ donor preferences in the event of death - some withhold consent for certain parts of the body like the eyes, for example.
Many donors wrote back to say their information was incorrect.
Sir Gordon Duff said: "People who generously agree to donate their organs should be reassured that the error has been dealt with effectively and that steps have been taken to minimise the risk of it happening again."
Public health minister Anne Milton said: "Organ Transplants are vital and I know that NHS Blood and Transplant will make sure such a situation never arises again."
NHSBT said it sincerely regretted that the error was not uncovered earlier and that the donations of 25 individuals were affected by it.
A spokesman said: "We would like to take this opportunity to reiterate our unreserved apologies to the families of those people.
"After discovering the error, the NHSBT Board carried out its own investigations resulting in a detailed remedial action plan.
"We accept in full the recommendations of Professor Sir Gordon Duff, which will contribute significantly to strengthening the Organ Donor Register and public confidence in it as a way to record organ donation wishes.
"Since the error related to the way in which we received data from one of our partners, our immediate focus has been to take forward those actions that relate to our working arrangements with partner organisations."
Related Internet Links
The BBC is not responsible for the content of external sites.