Sperm donors 'deserve greater recognition'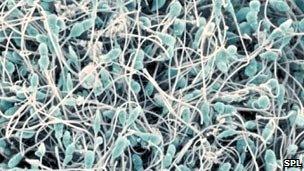 Men who donate sperm for IVF should possibly be reimbursed more than women who donate eggs, a leading fertility campaigner has suggested.
Laura Witjens, who chairs the UK's National Gamete Donation Trust and has donated her own eggs, says most people are not aware of the "serious commitment" involved in sperm donation.
She argues it is wrong to see it as less worthy than egg donation.
But fertility experts say donating eggs is invasive and carries greater risks.
Fertility clinics are not allowed to pay for eggs and sperm, but they can compensate donors up to £250 for loss of earnings plus expenses.
That limit is about to be reviewed by the fertility watchdog, the Human Fertilisation and Embryology Authority, particularly for women, who have hormone treatment and an operation to take out the eggs.
The question of reimbursement is being debated at the Royal Society of Medicine later.
Ms Witjens argues that sperm donors, who are asked to avoid sex and alcohol for several months while making regular visits to a clinic, should receive "at least the same payment if not more than egg donors".
In an article for the BBC News website's "Scrubbing Up" column, she says it is wrong that most attention is paid to egg donors who enjoy "elevated status", while sperm donors may be subjected to "jokes or smutty comments".
"Assuming [sperm donors] follow the guidelines, it means we're asking healthy men aged between 20 and 45 (and their partners) to have very limited sexual activity for months on end. This has a significant impact on their normal life," Ms Witjens writes.
"Just like egg donors, to the families these guys help, they are heroes. And that's something that deserves recognition from us all."
She acknowledges that donating eggs involves risks and is much more intrusive; 10 years ago she donated her own eggs for use in IVF treatment.
But Ms Witjens concludes that payment should not be based solely on medical risk, and that sperm donors should be rewarded for their "commitment, dedication and selflessness".
Many fertility experts disagree with higher reimbursement for sperm donors.
Dr Allan Pacey, a senior lecturer in andrology at Sheffield University, says he is personally uncomfortable with the debate over money, arguing that "the clue is in the name - donations".
But he says: "We have argued historically that women should be paid more because they take more risk."
However, he agrees that sperm donors are not treated well enough. "In society we tend to sneer. That chips away at potential donors."
Sarah Norcross, director of Progress Educational Trust, also disagrees with the idea of offering more for sperm donors, arguing that women face a "much more intrusive procedure".
She said: "There's always a risk attached, much higher than for a man turning up and doing the business in a jar."
However she agrees that the level of compensation for men and women should increase, describing the current limit as "woefully inadequate".
Related Internet Links
The BBC is not responsible for the content of external sites.