More forceps training 'could cut caesarean births'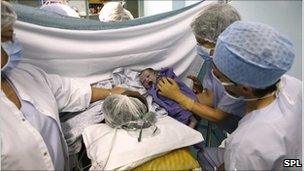 More training in techniques used during difficult births could help reduce the number of caesarean sections, an expert suggests.
Prabha Sinha, a consultant obstetrician, says that junior doctors need more time using simulators that help them practise forceps deliveries.
There are wide variations in caesarean rates from hospital to hospital.
The Royal College of Obstetricians and Gynaecologists said regulations cutting training hours were partly responsible.
Forceps - metal instruments which are placed on the baby's head so it can be pulled outwards , and ventouse - a suction cap which is also placed on the head, help doctors apply pressure when a woman is having difficulty delivering the head by pushing alone.
These "instrumental" deliveries have fallen over the years, as the rate of caesarean sections has risen. The suggestion is that doctors unsure of their abilities with these instruments are opting for caesarean where a forceps delivery could be made.
Dr Sinha, who works at Conquest Hospital in St Leonard's-on-Sea, wrote in the professional publication "Obstetrician and Gynaecologist" that extra training could reverse this trend.
She said: "Emergency caesarean sections carry the risk of severe obstetric morbidity, but if conducted properly, instrumental deliveries can be safe and make it easier to give birth again vaginally."
Dr Sinha backed the use of mannequins which allow doctors to try the techniques before encountering a woman in labour.
And she said: "Enhanced practical training is required for all junior doctors using simulators to maximise expertise prior to clinical application.
"It is essential that trainees perform these procedures under the direct supervision of a trained and experienced obstetrician."
A recent study looked at caesarean rates across England, and found wide variations, attributing this not to women choosing caesarean in preference to natural labour, but mainly to differences in the way clinical teams made decisions.
Patrick O'Brien, also a consultant, and a spokesman for the Royal College of Obstetricians and Gynaecologists, said junior doctors would be more likely to opt for caesareans if they were working unsupervised by a consultant, for example during a night shift, and if they had relatively little experience or training in forceps use.
He said: "The European Working Time Directive has meant falls in the number of training hours, and the total years of training have been reduced.
"It's true that if you have people who are very experienced with ventouse and forceps, the caesarean rate goes down."
He backed the call for more training, especially with more modern mannequins which help doctors assess their technique more accurately.
"Where I work, the mannequin actually tells you how hard you are pulling, so you can get that right."
Related Internet Links
The BBC is not responsible for the content of external sites.