Diabetes and obesity rates on the rise, warns charity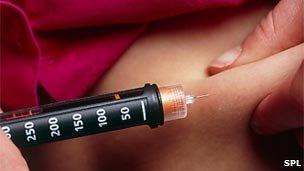 The number of people with diabetes in the UK has risen by around 5% in the past year, says a health charity.
Diabetes UK warns that failure to act could have serious implications for public health.
Type 2 diabetes, which is linked to an unhealthy diet and being overweight, can result in heart disease and strokes.
Data from GPs shows that one in 10 of the UK population is now obese.
In the UK, there are currently 2.8 million people diagnosed with diabetes, an increase of 150,000 during the last year.
About 90% of these have Type 2 diabetes.
The number of people registered as obese in the UK has risen by 265,000 to more than 5.5 million.
Around 10% of NHS spending goes on diabetes and its complications, says Diabetes UK.
The charity estimates that this equates to £9bn per year.
Simon O'Neill, director of care, information and advocacy at Diabetes UK, said he was shocked by the rise in diabetes and obesity rates.
"Many, but not all, people develop Type 2 diabetes because they are overweight or obese so we must keep up the mantra of 'five fruit and veg a day', encourage daily physical activity and warn of the potentially devastating consequences of an unhealthy lifestyle."
Around 90% of people with diabetes have Type 2 diabetes, which is strongly linked to being overweight or obese, leading a sedentary lifestyle and eating unhealthily.
Simon O'Neill says that this epidemic must be tackled without delay.
"Failure to act now means a bleak future of spiralling NHS costs and worsening public health," he said.
People at risk of Type 2 diabetes can often decrease that risk by losing weight, doing more physical exercise and improving their diet.
A spokeswoman for the Department of Health said: "The Government is committed to tackling obesity to help prevent more serious illness and much bigger costs to the health service and the country in years to come.
"We will be publishing a White Paper on Public Health before the end of the year which will set out our plans to tackle obesity and help people lead healthier lives."
Related Internet Links
The BBC is not responsible for the content of external sites.