Paternal health 'disregarded in breast cancer cases'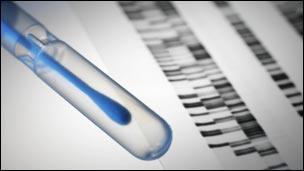 Women at risk of breast cancer miss out on tests and early diagnosis because their father's family's health history is disregarded, a study has suggested.
Canadian researchers say in Lancet Oncology that women were more likely to report a history of the disease on their mother's side.
They found women with a maternal cancer history were five times more likely to be referred by family doctors.
A UK cancer charity said a father's history was "often overlooked".
It is thought that between 5% and 10% of breast and ovarian cancers are the result of a genetic inheritance.
This is equally likely to have come from either the father or mother.
A significant chunk of this genetic risk is known to come from defects on either the BRCA1 or BRCA2 genes, which make it much more likely that a woman will develop breast or ovarian cancer in her lifetime.
If a woman has a strong family history of breast cancer, she can be referred for further testing to see if she has a known gene defect.
She can then take steps to reduce the risk, or simply get checked more regularly to catch the cancer early.
The Lancet Oncology research, led by Jeanna McCuaig from the Princess Margaret Hospital in Toronto, found that despite the equal chance of inheritance from mother or father, the maternal history seemed to be taken more seriously.
They looked at records from their own clinic, and found the difference in referral rates.
They concluded that there were two reasons for this - a lack of knowledge in women about the risks, and a similar problem among family doctors, who did not ask women about the history of breast cancer on their father's side.
She wrote: "Anecdotally, we know of two patients - a man with a substantial history of breast and ovarian cancer, and a woman with a known BRCA2 gene mutation in her paternal family - who were both falsely reassured by their healthcare providers that this history did not increase their, or their daughters' cancer risks.
"The patients were not offered genetic assessment and testing or the appropriate medical options"
The charity Breakthrough Breast Cancer said similar problems could occur in the UK.
Dr Caitlin Palframan, policy manager, said: "We know that a family history on the father's side is sometimes overlooked as a risk factor for breast cancer, but it's important to know that faulty genes can be inherited from the father, as well as the mother.
"However, this is unusual as only around one in 20 of all breast cancers are due to inherited faults in known genes.
"A family history means having an unusually high number of close relatives with breast cancer on one side of the family."
She urged anyone concerned about breast cancer cases in their family history to speak to their doctor.
Related Internet Links
The BBC is not responsible for the content of external sites.