Libido problems 'brain not mind'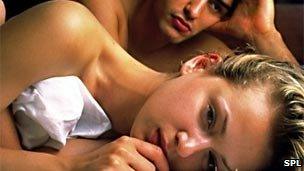 Scans appear to show differences in brain functioning in women with persistently low sex drives, claim researchers.
The US scientists behind the study suggest it provides solid evidence that the problem can have a physical origin.
They measured brain activity as the women watched erotic videos.
But a spokesman for the charity Relate said the study simply demonstrated low libido at work in the brain, rather than exposing its cause.
In recent years, a diagnosis of "hypoactive sexual desire disorder" (HSDD) in women has become more accepted by science.
However, there remains controversy about whether the term can or should be used to describe a lack of sexual desire, which may be caused by a variety of psychological, emotional and physical factors.
The latest study, carried out at Wayne State University in Detroit and presented to the American Society for Reproductive Medicine conference in Denver, highlights differences in mental processing in women who have low sex drives.
Its author, Dr Michael Diamond, said it suggested that HSDD was a genuine physical problem.
He recruited 19 women who had been diagnosed with the condition, and compared their brain responses with those of seven others using a functional magnetic resonance imaging scanner, which can measure levels of activation in different parts of the brain by detecting increased blood flow.
The women were asked to watch a screen for half an hour, with everyday television programmes interspersed with erotic videos.
In the seven women who did not have the HSDD diagnosis, increased activity in the insular cortices - parts of the brain believed to be involved in the processing of emotion - could be seen. The same did not happen in the women with HSDD.
Dr Diamond said: "Us being able to identify physiological changes, to me provides significant evidence that it is a true disorder as opposed to a societal construct."
Other experts in psychosexual medicine are not entirely convinced though.
Sandy Goldbeck-Wood, from the Camden and Islington Mental Health Trust, said that, while interesting, the study could be a "complete red herring".
She said a bigger study would be needed to make sure that the brain differences identified were truly related to sexual function, as opposed to depression, which could cause sexual problems.
Peter Bell, a sexual therapist from relationship charity Relate, said that the lack of brain activity in response to erotic images might be expected in a woman who had lost interest in sex, for a wide variety of reasons.
He said: "This disorder is now a recognised medical condition, but it remains a mystery whether there is one cause or several."
He said that everything from a demanding, busy lifestyle, to physical problems such as polycystic ovary syndrome, could cause loss of libido.
"The issue is that once this is given a name, any woman who isn't feeling as sexy as usual thinks she has a problem.
"My belief is that the condition exists, but affects fewer women than has been suggested."
Related Internet Links
The BBC is not responsible for the content of external sites.