£600m cancer drug fund announced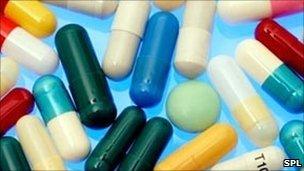 Patients in England will benefit from a £600m fund to improve access to cancer drugs over the next three years, the government has confirmed.
The move is to address the UK's poor record of cancer treatment provision compared with the rest of Europe.
Health Secretary Andrew Lansley said cancer patients were already getting extra treatments thanks to an interim fund of £50m which began in October.
From next April, the first of three annual £200m sums will be available.
Mr Lansley said this would enable NHS doctors to buy drugs for their patients that can extend life or improve its quality.
"This £200m a year funding over three years for cancer drugs is a crucial step forward in addressing the disparity in patients' access to cancer drugs in England compared to other countries.
"My aim is to truly empower patients."
A recent analysis ranked the UK 12th out of 14 developed countries - which included much of Western Europe, North America, Australia and New Zealand - on access to cancer drugs that have come onto the market within the past five years.
Experts said part of the reason was because some of the newer cancer drugs had not been approved for NHS use by the National Institute for Health and Clinical Excellence (NICE), its clinical watchdog.
The extra money should make it easier for doctors to prescribe treatments even if they have not yet been approved by NICE.
Mr Lansley said NICE would continue to appraise most significant new drugs, and would have "an important part to play" in longer-term plans to introduce "value-based pricing" for new medicines.
Hilary Tovey, of Cancer Research UK, said: "This cancer drugs fund could make a real difference for some cancer patients, allowing them to get the treatments they need.
"It's crucial that cancer patients have easy access to the best drugs and that the way this happens is transparent and easy for doctors and patients to understand.
"How this fund operates will be crucial to its success. All patients - wherever they live - must be able to access this fund in a clear and consistent way.
"Its use will need to be carefully monitored, so we can be sure it's being used in the way that benefits patients most."
Related Internet Links
The BBC is not responsible for the content of external sites.