Baby P doctor wins right to challenge GMC hearing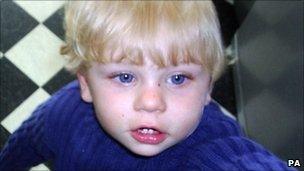 A doctor accused of failing to spot signs that Baby P was being abused has won the right to legally challenge a General Medical Council disciplinary hearing against her.
Dr Sabah Al-Zayyat is seeking to overturn a GMC ruling that refused to grant her "voluntary erasure" from the medical register on health grounds.
The judge ordered that her challenge be heard in the High Court in November.
The GMC panel must stop its hearing until the challenge is heard, he said.
Dr Al-Zayyat's counsel argued that the panel's decision was "perverse" in the light of medical evidence that the doctor is not well enough to participate in the hearing.
The doctor, who is facing disciplinary action over her conduct, had her application to be removed from the medical register rejected earlier this week.
The GMC ruled that the "serious" allegations against her should be heard in public.
It could ban her from working in the UK.
GMC panel chairman Ralph Bergmann said: "The application for voluntary erasure would avoid a public, and necessary, examination of the facts of this case."
Mr Bergmann added that the doctor's interests were outweighed by the need to maintain public confidence in the medical profession and in the GMC.
Dr Al-Zayyat saw 17-month-old Peter Connelly at St Ann's Hospital in Haringey days before his death in 2007.
She is accused of failing to carry out an "adequate examination", investigate his injuries or admit him to hospital.
A post-mortem examination found he had probably suffered serious injuries, including a broken back and fractured ribs, before he was examined by Dr Al-Zayyat.
Dr Al-Zayyat is also accused of knowing Peter was on the child protection register.
She had her contract with Great Ormond Street hospital terminated after details of Peter's case came to light.
Dr Al-Zayyat, who did not attend this latest hearing, was originally due to face GMC disciplinary action in February.
The earlier session was adjourned after the panel heard she was "suicidal", unfit to defend herself and had left the country.
Related Internet Links
The BBC is not responsible for the content of external sites.