Tuberculosis cases highest for nearly 30 years in UK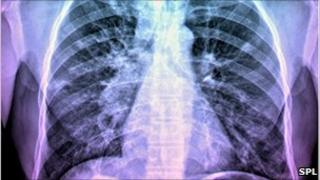 The number of tuberculosis cases in the UK topped 9,000 last year, the highest for nearly 30 years, figures show.
Diagnoses have been rising almost continuously since the 1980s, with many of the new cases thought to be among people who caught the disease abroad.
There has also been a sharp rise in drug-resistant TB cases: figures have nearly doubled since 2000 to 389.
The Health Protection Agency, which released the figures, said more efforts must be made to curb the problem.
TB is an infectious bacterial disease of the lungs, causing symptoms such as coughing, chest pains and weight loss.
Preventable and treatable
The total number of cases was 9,040 last year, up from just over 8,600 in 2008.
Two thirds were among people born outside the UK, mostly in Africa and the Indian sub-continent.
As symptoms can take up to two years to appear, health experts believe many people may have caught the disease before moving to the UK or caught it on trips back to the countries of their birth.
The majority of the rest of the cases are among homeless people, drug users and the prison population.
The HPA said it was important that local health managers put steps in place to diagnose and treat the condition in the places with the biggest problems.
About 300 people a year die as a result of TB, even though it is treatable if caught early enough.
Urban areas tend to be the worst affected, with London responsible for nearly half of England's total cases.
Dr Ibrahim Abubakar, head of TB surveillance at the HPA, said: "We are concerned. TB is a preventable and treatable condition, but if left untreated can be life-threatening."