Dear donor...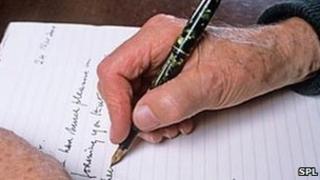 "'Thank you' is an expression which is used quite often and sometimes just in passing. This is not that kind of 'Thank you'.
"It is a different 'Thank you', one that defies English, or for that matter, any language on Earth.
"But how does one say thank you to someone who because of you and your loved one's generosity I am alive today and continue living?
"This is not simply a gift of an organ; it is a gift of life. I don't know how one can truly express one's feelings in words for giving someone a life.
"I can however but try."
These are the words written by a transplant patient to thank the relatives of the donor who gave them a liver.
Their letter is one of many gathered together for a new book published by the Royal College of Physicians with the support of NHS Blood and Transplant and the Department of Health.
Professor Andrew Burroughs, a consultant physician and hepatologist at the Royal Free Hospital in London, and Linda Selves, senior liver co-ordinator at the same hospital, had the idea for the book three years ago.
Prof Burroughs said: "I wanted to promote organ donation and recognise the contribution of donors to saving lives.
"I thought a book of letters from very grateful patients would be a powerful way of publicly thanking and remembering donors and their families."
The book contains 50 letters and is dedicated to all of the families who have said "yes" to donation, and to their family member who is so greatly missed.
Life-long gratitude
Diana Sanders, a woman now in her 40s, received a life-saving heart and lung transplant eight years ago.
As a baby she was born with a congenital heart condition that the doctors at the time were unable to treat. By her late 30s Diana's heart began to fail and she was put on the transplant waiting list.
Diana's letter to her donor and their family says: "When you died in 2002, my new life began.
"I want you and your family to know that I will never stop thinking of you, and never stop being grateful for giving me your heart and lungs.
"When I came round from the operation, you were my first thought. Who were you? How did you die?
"I was only told that you were a 31-year-old woman - it seemed like such a terrible age to die, and at times, unfair that I had survived and you hadn't.
"I hope you never knew anything about the brain haemorrhage that killed you. I hope you were happy and fulfilled, and that your short life was a good one.
"Did you have children, brothers and sisters, aunts, uncles? What did you enjoy? What made you laugh?
"I only know that at some stage in your life you made a decision to be an organ donor. Maybe you didn't give it much thought, just saw it as something good to do.
"To begin with, my new heart and lungs didn't feel like mine. I mourned the loss of my own heart and lungs, as though they had died, too.
"Someone told me that they were a gift from you to me, and that helped me to accept them. I hardly think about it now; my body just feels normal and I've got used to being well and alive.
"My new life is amazing. I haven't run a marathon or sailed round the world, but being able to go for long walks is, for me, remarkable.
"Being able to do everyday, ordinary things is a miracle - sharing a joke with my husband, going to the cinema, looking after my mother as she gets older. Looking after other people for a change.
"Just life, really. My life, in exchange for yours.
"Thank you."
Cathy is the mother of a teenage girl, Emma, who died unexpectedly. Emma had carried a donor card asking for her organs to be used after her death.
Emma's liver has helped Simon, a teacher and artist, to lead a healthy and happy life over the last nine years.
Cathy has received regular updates from Simon and his family, which she says has been a great comfort.
"The fact Simon continues to do so well gives our family great pride in Emma's wishes to be a donor.
"It takes a huge degree of courage for the recipient and their family to actually take the step to say 'thank you' in some form but the effect it has on the donor's family is immeasurable in so many ways."