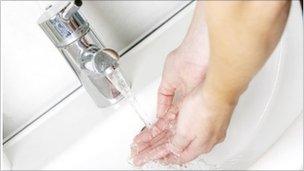 Concerns are being raised about the state of hospitals, mental health units and community facilities in the health service in England.
Official figures obtained by the BBC show nearly a fifth of the NHS estate is not up to scratch - or deemed not functionally suitable, in official terms.
What is more, experts are predicting the situation could get worse as cuts in the capital budget could hamper future building plans.
What does not functionally suitable mean?
It is an official standard used by the NHS to assess whether the buildings being used are good enough for the demands of the modern health service. Every part of NHS estate which is being used - both patient areas such as wards and non-patient areas such as office space - is looked at each year.
Estates staff look at official criteria set down by the government covering issues such as space and layout. There are four categories: A, B, C and D. To be classed as not functionally suitable, an area of a building has to fall in the C or D categories. These basically mean the facilities need a major overhaul or complete rebuild to be suitable for what they are being used for.
However, having an area classed as not functionally suitable does not mean it is unsafe. Any area falling into that category would almost certainly be closed down. Instead, it just means the building is not good enough, making the delivery and efficiency of services more difficult.
The data covers acute hospital, mental health trusts and local health centres. It does not cover individual GP practices.
What do the figures show?
In a nutshell, that there is a significant problem with the state of NHS buildings. Overall, 17% are classed as not suitable. There are 33 hospitals with 50% or more of their estate not up to scratch. Another 109 buildings - mainly mental health units and community hospitals - are in the same boat.
These include wards that are too small or too far away from key services such as scanning equipment and intensive care. Layout of A&E areas are also problematic. For example, not all hospitals have separate A&E units for children and adults.
The availability of facilities such as wash basins for infection control and storage space has also been highlighted by hospitals.
Why is there such a problem?
A large chunk of the NHS estate is too old. Nearly a fifth of the stock was built before 1948 when the NHS was created. This includes buildings built as far back as the 1700s.
There has also been a lack of investment. The 1960s saw major investment in the network of district general hospitals, but too little was done after that until the last decade when major projects got off the ground thanks to the use of private money through the PFI programme.
What is more, the little money that has been made available each year to hospitals and other health centres to upgrade their buildings has too often been diverted elsewhere. There are reports of this happening when trusts were struggling with deficits as well as when the swine flu pandemic was in full swing last year.
It has meant that too many buildings have become outdated as modern medicine has advanced. The sheer scale and variety of equipment that is used means the old-style Nightingale wards struggle to accommodate the needs of the 21st century NHS.
Thanks to the investment in new buildings through PFI schemes there has actually been some improvement in recent years. Four years ago 24% of the estate was classed as not suitable.
However, many estates staff believe the NHS is now at a turning point. There is less appetite for PFI schemes because of the lack of private money available and the fact that the schemes tie the trusts into making repayments over the next 20 or 30 years.
The other source of funds in the capital budget. But that will fall by nearly a fifth in real terms over the next four years to £4.6bn in 2014-15.
Trusts do have plans in the pipeline, but whether these will ever get the final go-ahead remains to be seen.
There are already signs pressure is mounting. The bill for the most pressing backlog of repairs and maintenance, including things such as replacing roofs, has risen by more than £30m in the past year.
Related Internet Links
The BBC is not responsible for the content of external sites.