Many women 'unaware they have a weight problem'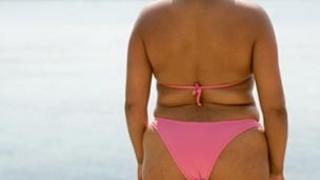 When a woman asks: "Does my bum look big in this?" she has some insight that her derriere may appear larger than desirable.
But ask a woman if she thinks she is overweight and you may be surprised by the answer you get.
When US researchers asked 2,000 women this question, many were unable to give a correct answer.
A quarter of those who were overweight were unaware that they had a weight problem and perceived their size to be "average", even though they clearly were not.
In fact 1,000 of the women in the survey were found to be clinically obese or overweight.
Like this latest work in Obstetrics and Gynecology journal, UK researchers have also found many Brits have a skewed perception of what is fat.
Obese the new "norm"
A YouGov poll of 2,000, carried out last year with Slimming World, found three in four obese people in the UK were unaware of their weight problem.
This survey found only 7% of people believed their weight was significant enough for them to be classified as obese, despite over a quarter of those interviewed fitting into this category.
Experts say part of the problem is that obesity is becoming normalised by society.
With two-thirds of UK adults now overweight or obese, the average size is no longer average.
Tam Fry of the National Obesity Forum says obesity is now so common-placed that we no longer see it.
"Everybody is getting heavier and, as a result, people think 'I'm not so heavy - look at her' and then fail to realise they themselves have a problem."
Dr Shahrad Taheri, lead clinician in obesity at Birmingham's Heartlands Hospital, says it is the environment that we live in that makes it hard for people to both recognise and tackle weight issues.
Our love of convenience - fast food, motorised transport and sofa-based hobbies - is making obesity inevitable.
And as clothes are being supersized to fit our plumper bodies, we may not be alerted to our growing girth.
And, typically, when obesity is covered in the media, it is the extreme cases of massively overweight people stuck in their houses that grab the headlines. Hardly an accurate barometer.
Dr Taheri said: "Our environment is designed to trick us into eating fast food and doing little exercise.
"In the UK we have the biggest obesity problem in Europe, yet we continue to have this difficulty with perception.
"It may be easy to spot those people who are very overweight, but it's the middle of the road people that are missed.
"Experience shows that even many parents are not aware when their children have a weight problem."
But this blinkered perspective is dangerous say the US experts who carried out the latest survey.
Society's problem
The team from the Center for Interdisciplinary Research in Women's Health found people who failed to realise they were overweight were far less likely to concern themselves with adopting lifestyle changes to maintain a healthy weight.
Lead researcher Dr Abbey Berenson said: "These patients are at risk for cardiovascular disease, type 2 diabetes and other serious problems."
Official statistics suggest an obese person dies on average nine years earlier than somebody of normal weight, while a very obese person's life is cut short by an average of 13 years.
Tam Fry believes GPs should take charge and do more weighing of their patients.
"If people themselves can see that they have a weight problem then the medical profession has to be much more observant."
But Dr Jacquie Lavin, head of nutrition at Slimming World, said it should be up to individuals themselves to take responsibility.
"If people take responsibility themselves they are more likely to succeed in keeping weight off.
"It is easy enough to jump on a set of scales and work out your own BMI."
She believes it is important to get back to a time where a healthy weight is again the "norm".
"As a society, we need to offer more opportunities for people to be more active and to make healthier food choices.
"The figures suggest we seem to be making some headway with tackling childhood obesity. But for adults, we are certainly not over the worst of it yet."