Hundreds of people face hip and knee operation delays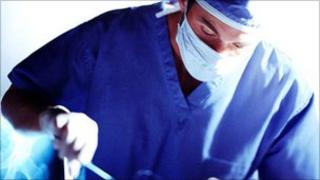 Hundreds of people in England are being told their hip and knee replacement operations are being delayed.
BBC Radio 4's You and Yours programme has learned a growing number of PCTs are restricting hip and knee operations by reclassifying them as low priority.
That puts them in the same category as treatments for trigger finger, ganglion cysts and varicose veins.
The British Orthopaedic Association said it was concerned patients' access to healthcare was being restricted.
The association's president, Peter Kay, said: "We have seen a number of PCTs up and down the country bringing in policies to limit the chances of patients coming through to hospital.
"Patients are being taken off waiting lists and having their cases reviewed,' he added.
He says delaying these procedures could have an adverse effect: "Patients often become worse.
"If you operate late, when someone is quite bad you don't get quite as good a result. Some patients are waiting up until April next year."
Warwickshire Primary Care Trust (PCT) is one of those rationing healthcare in this way.
Dr Francis Campbell, a GP and chair of Warwickshire PCT's Professional Executive Committee, says the hospital has actually been over performing by doing more hip operations that it was contracted to.
He said: "We have spent money we haven't got and we have also seen as a result that our waiting times have decreased.
"If we carried on like this we would be doing 13-14 months of work in one year so we have put in a place a policy that enables us to get back where we should have been at the end of the year. "
Dr Campbell added: ''We have an ageing population and increasing demand and yet we have flat finances.
"We estimate that we are looking at an £80m gap next year so we have to start discussions now about how do we prioritise, how do we ensure that those people who really need it get the operation, and how do we look at our finances across all of the things that we spend it on to ensure that we spend it in the best possible way. "
According to NHS figures approximately 94,946 hip operations were performed in England in 2009/10 compared with 78,479 in 2003/04.
The average wait for a hip operation is 77 days compared with 212 in 2003/04.