BMA ex-chief cleared to return to work after hearing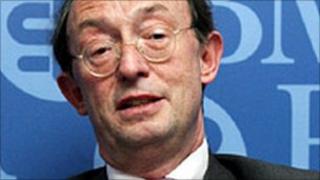 An ex-head of the British Medical Association has been cleared to return to work after a disciplinary hearing.
A General Medical Council panel had earlier rejected many allegations involving the clinical and surgical practice facing James Johnson, 64, a Cheshire-based surgeon.
But he was found to have not involved himself properly with the post-operative care of some patients.
His lawyer said the hearing had been a "chastening and humbling" experience.
'Lurid' headlines
Mr Johnson, who worked at two hospitals in Runcorn and Warrington in Cheshire, had been accused of "acting with arrogance", and of carrying out amputations when other operations should have been considered.
But Martin Ford, representing Mr Johnson, said that despite "inappropriate and lurid" headlines, the panel had found no patient had suffered because of Mr Johnson's care, that he had not carried out any unnecessary amputations and any allegation of clinical incompetence was proved wrong.
The panel agreed and decided that Mr Johnson's fitness to practice was not impaired.
It also decided against issuing him with a warning given that he has apologised, the incidents were isolated and he has already modified the way he worked.
In a statement after the hearing Mr Johnson said he was delighted with the outcome.
But he added: "I have nevertheless reflected upon the issues raised in the hearing and have either modified my practise or will do so where appropriate."
"I remain dedicated to my patients and look forward to continuing to practise as a surgeon."
It had been claimed Mr Johnson had spent too much of his time in his role as chairman of the BMA, and too little time caring for his patients and keeping his surgical practice up to date.
The GMC did find Mr Johnson sometimes did not properly involve himself with the post-operative care of his patients because he was away in London on BMA duties.
It said that "at the very least", he should have "picked up the telephone" in order to find out how his patients were faring post-operatively.
It was also found that, on occasion, Mr Johnson did not involve himself in discussions with other healthcare staff prior to surgery.
But the GMC panel cleared him of most of the charges, including all the more serious ones.