Child leukaemia drug boosts survival rates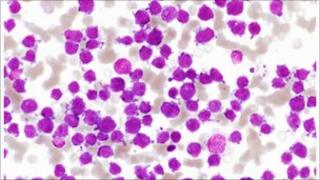 Scientists are hailing a chemotherapy drug found to significantly increase the survival chances of child leukaemia patients whose cancer has returned.
A Cancer Research UK study found giving mitoxantrone to children whose acute lymphoblastic leukaemia returned led to a 69% survival rate after three years.
The standard treatment offers a 45% survival rate, The Lancet study says.
The research was so successful that doctors now give all children with the condition mitoxantrone.
'Striking results'
There have been significant improvements in survival rates for children with cancer in the last 40 years.
More than three quarters of children now survive the disease, compared to a quarter in the 1960s.
Cancer Research UK says around 380 children are diagnosed with acute lymphoblastic leukaemia (ALL) in the UK each year.
Of those, around 40 relapse.
Over the last 30 years, the number of children who have survived an initial episode of ALL has risen from 50 to 80%.
However, doctors have not seen similar improvements for children whose cancer returns, with the survival rate remaining unchanged at around 50%.
It remains the leading cause of cancer death in children.
In this study, 216 UK children with a relapse of ALL were studied.
Mitoxantrone was given to 105, while the rest were given idarubicin, the standard chemotherapy treatment.
After three years, 69% of those taking mitoxantrone had survived, compared with 45% of those given idarubicin.
Children on mitoxantrone also experienced fewer side effects.
Professor Vaskar Saha, a child cancer specialist at the Paterson Institute in Manchester, who worked on the study, said: "These striking results show just what a powerful drug mitoxantrone is in treating children whose leukaemia has returned, offering hope to many families across the country."
The study began in 2003, but by 2008 the scientists felt the results were so promising that mitoxantrone - a cheap and readily available drug - is now recommended for children worldwide with relapsed ALL.
The study was stopped, and the children taking idarubicin were switched to mitoxantrone.
Professor Saha added: "As a result of this trial, mitoxantrone is now the standard treatment for relapsed ALL, and is having a significant impact on the number of children who beat the disease worldwide.
"This is the first time that a trial in ALL has been stopped so early after one drug had such clear benefits for patients."
Kate Law, director of clinical research at Cancer Research UK, said: "These exciting results highlight the impact that research is continuing to have to help more children beat the disease."
Writing in the Lancet, Professor Martin Schrappe of the University Medical Centre Schleswig-Holstein said the 20% difference seen between the two groups was "one of the largest improvements ever achieved by a single modification of treatment".